Wall wins as Davison, Heimgartner collide in Race 2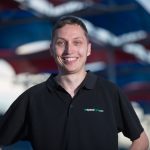 David Wall boosted his Carrera Cup Australia title hopes after completing a clean sweep at Sepang following an eventful second race.
The former Supercars full-time produced another faultless lights-to-flag drive at the 5.5km Malaysian circuit.
While Wall enjoyed a relatively comfortable drive, title contenders Andre Heimgartner and Alex Davison collided dashing their hopes of a podium finish.
Dylan O'Keeffe came through to score an impressive second, while Lars Kern rounded out the podium.
The double victory has seen Wall extend his championship lead to 118 points over Heimgartner.
Wall once again converted his pole position into a lead as the field streamed into Turn 1.
Davison offered a challenge around the outside of Turn 1 but he soon found himself under pressure from Heimgartner who jumped through to second.
Jaxon Evans charged up to fourth with a move on O'Keeffe which he then followed up by passing Heimgartner for third at the final corner.
However, the New Zealander's race unravelled when he lost control at Turn 2, spinning in front of the field. He was collected by the unfortunate James Abela.
The incident dropped Evans to 14th position.
At the front, Wall continued to edge away to a comfortable lead as Heimgartner passed Davison for second spot.
Davison responded almost immediately to regain the position before the pair made contact at Turn 1 on lap 7.
Heimgartner touched the rear of Davison while attempting a pass, which sent the latter spinning.
Stewards issued Heimgartner a 25 second penalty for his role in the incident as Davison recovered to sixth.
There was no stopping Wall as he enjoyed a trouble free run to claim his second victory of the weekend.
Heimgartner crossed the line in second but the penalty saw him drop to eighth spot handing O'Keeffe second and personal best result, with Kern in third.
Nick McBride come through to finish fourth ahead of Davison who salvaged fifth.
Michael Almond was sixth while Evans recovered to finish seventh.
Stephen Grove took out the TAG Heuer Carrera Challenge class by finishing 10th from Tim Miles and Shane Smollen.
A post-race two second penalty for a bump and run on McBride has seen Kern demoted to fourth with the former promoted to the podium.
New Zealander Will Bamber took out the second Carrera Cup Asia race of the weekend from Martin Ragginger and Philip Hamprecht, while Saturday winner Chris van de Drift finished fourth.
Carrera Cup Australia and its Asian counterparts will combine for two invitational races later this afternoon.
The professional drivers will do battle at 1625 AEST with the TAG Heuer Challenge and Pro/Am competitors to contest a race at 1720 AEST.
VIDEO: Carrera Cup Australia Race 2 Wrap