CAMS to deny Gordon future competition visa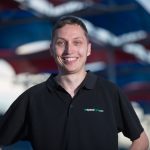 The Confederation of Australian Motor Sport has moved to block Robby Gordon from attaining a future competition visa required to compete in Australia following a hooning incident in Darwin.
The decision from CAMS could threaten the future of Stadium Super Trucks series in Australia, with the series owned by Gordon, who also regular competes in the category.
CAMS has confirmed this morning it is launching its own investigation into last weekend's incident that saw Gordon yesterday plead guilty to four traffic charges at Darwin Local Court and fined $4,150.
The former IndyCar and NASCAR driver performed burnouts in Darwin city's entertainment precinct on Saturday night.
CAMS described Gordon's behaviour as 'inexcusable' electing to block the American's application for future competition visa on health and safety grounds.
CEO Eugene Arocca said such antics would not be tolerated in Australia.
"With CAMS actively engaging more than ever with local communities, government, and corporate Australia to grow and promote our sport, so-called 'hoon' behaviour on public roads is not reflective of our values, nor our member base, and will not be tolerated," said Arocca.
"It is unfortunate that such actions have taken place after an otherwise professional and well organised event at Hidden Valley Raceway, and such behaviour is not reflective of the organising committee of that event or Supercars.
"We are disappointed that this incident is not demonstrative of the requisite level of professionalism demanded by modern motor sport.
"As a signatory of the global FIA Action for Road Safety campaign, we believe our CAMS licence holders, volunteers, circuits and car clubs – including our board and staff – uphold responsible conduct on our public roads."
Gordon was fined more than $1,800 by CAMS during the Clipsal 500 event for a breach of four safety regulations.
Speedcafe.com understands he was forced to apologise to the governing body for allegedly publicly burning his fines.