Police investigating Super Trucks hooning incident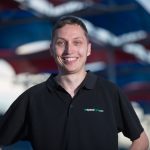 Police are understood to have impounded a Stadium Super Truck competing at this weekend's CrownBet Darwin Triple Crown after it was caught hooning through Darwin city's entertainment precinct.
Footage has emerged of the truck performing burnouts and driving wildly on Mitchell Street during a promotional event at Lizards Bar on Saturday night.
The truck arrived on the back of a flat bed truck before it was unloaded and driven on the corner of Daly and Mitchell St at approximately 8pm.
The truck in the footage was raced by Matthew Brabham during this weekend's race meeting at Hidden Valley Raceway, but Speedcafe.com can confirm Brabham was not at the wheel during the incident.
The identity of the driver is yet to be revealed.
Brabham was interviewed by Police after today's race where it is believed the authorities impounded the truck.
The NT News confirmed that Police are conducting a full investigation into the incident.
"We have CCTV of the incident and are currently investigating," said  Duty Superintendent Robert Burgoyne.
The Stadium Super Trucks, run by successful American driver Robby Gordon, were making their competitive race debut at Hidden Valley Raceway this weekend.
VIDEO: Nine News Darwin report on the incident