Bend Motorsport Park tipped for August 2018 Supercars slot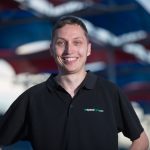 Supercars is eyeing an August date for a championship round at the new Bend Motorsport Park facility in South Australia next year.
The state-of-the-art $100 million complex, currently under construction near Tailem Bend, has long been tipped to join the 2018 Supercars calendar, having signed a Memorandum of Understanding with the category in 2015.
Construction of Australia's newest permanent motor racing circuit is on schedule to be completed ahead of an expected official opening in January next year.
Supercars has been in discussions with circuit owner Sam Shahin, who is leading the build of an FIA grade 2, 7.77km circuit, featuring four different track layouts and a 50 room hotel onsite.
Championship CEO James Warburton is hoping The Bend Motorsport Park will receive a late August berth on next year's schedule, subject to the successful completion of the venue.
Work on the 2018 calendar is well underway with confirmation next year's visit to the Formula 1 Australian Grand Prix has been upgraded to a full championship round.
"It is all working its way through. We obviously expect to be at The Bend Motorsport Park in 2018," Warburton told Speedcafe.com.
"It is now up to South Australian Tourism and the South Australian Government to give the relevant approvals to have the two races (including Adelaide 500) in South Australia.
"The circuit has to be built and we know that is happening but you never want to count your chickens before they have hatched.
"As we get closer to Sandown (September 15-17) we will make sure we are completely confident that the circuit will be ready and their won't be any delays terms of being available for 2018.
"There is no possibility to do it in the front half of the year due to the fact from a South Australia Tourism point of view that it is close to the Clipsal race and other commitments to other race events.
"Most likely it will be around and before Sandown in late August."
The Bend Motorsport Park may not be the only addition to the 2018 calendar with Supercars continuing to pursue an expansion into Asia.
As previously reported, Malaysia's Sepang International Circuit has emerged as a possible inclusion on next year's schedule.
The interest arrives after a failed attempt to crack into the country following the collapse of the KL City Grand Prix event due to a legal wrangle between promoters.
Discussions remain ongoing with Sepang boss Razlan Razali regarding a possible standalone Supercars meeting.
"We have been in contact (with Sepang) and I have got a good working relationship with him (Razlan) and his team," he added.
"There is nothing further to report, we are just exploring the opportunity."
Warburton says the championship is investigating several countries and venues as it looks to secure two Asian race events by 2019.
Indonesia's Sentul Circuit remains among the possibilities if the facility completes necessary upgrades.
"It is actually about finding the right opportunities and ensuring that they are there for the long term," he said.
"We have got a pretty extensive funnel.
"There are some which will absolutely not happen but others are moving in the right direction.
"There is one in particular for 2019, and it is no secret being Sentul, but like MotoGP (which has also investigated the venue) it continues to be delayed because the circuit needs upgrading and government funding."
The new agreement with Formula 1 to host a championship round at the Australian Grand Prix has also opened the door to securing slots on further F1 meetings in the Asia region.