Aussie rising star faces months on the sidelines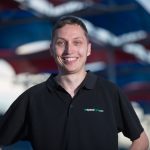 Rising Australian single seater star Harry Hayek will be sidelined for several months after suffering fractured vertebrae following a crash while competing in the BRDC British Formula 3 Championship.
The 19-year-old from Sydney is currently in hospital after a heavy crash at the high speed Riches corner during practice for the third round of the championship at Snetterton last week.
Hayek, driving for Double R Racing, is unable to walk and is expecting to undergo surgery on his injuries, which are likely to see him out of action for at least three months.
"I had a massive high speed crash and the instant deceleration force caused my top and bottom vertebrae to burst fracture and crush my middle vertebrae," Hayek told Speedcafe.com.
"I can't walk at the moment and can only lie on my back flat.
"I'm very lucky because it was only millimetres away from my spinal chord and could have been a lot worse."
The former Australian Formula 4 driver is currently 17th in the BRDC F3 Championship standings.