TCR Audi touring car arrives in Australia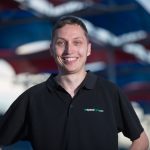 Audi Customer Racing Australia is evaluating the possibility of running TCR cars in Australia following the arrival of an Audi RS 3 LMS.
The car, which has just arrived from Dubai, is part of the Melbourne squad's fleet at Phillip Island this weekend although the machine will be on display purposes only.
It has been used by Audi Australia for demonstrations earlier this week.
TCR is relatively new global touring car formula established in 2015 as the brainchild of former World Touring Car Championship boss Marcello Lotti.
Regional series utilising the 330hp two-litre turbocharged TCR touring cars have emerged in China, Italy, Portugal, America, Thailand, Germany and Scandinavia.
Audi is the latest marque to adopt the TCR regulations having launched the car in September last year, joining SEAT, Volkswagen, Ford, Alfa Romeo, Honda, Hyundai, Kia, Lada, Opel, Peugeot, Renault, Skoda and Subaru.
TCR cars are yet to compete in Australia although Audi Customer Racing Australia boss Troy Russell is keen to see if there is any interest in the machine.
The Audi RS 3 LMS is expected to remain in the country until November.