Ricciardo: Monaco a chance to mount a challenge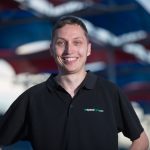 Daniel Ricciardo is optimistic further Red Bull upgrades can help him mount a challenge to the front runners at this weekend's Monaco Grand Prix.
The Red Bull driver heads to Monaco with renewed confidence with the unforgiving street circuit set to level the playing field and bring driver skill to the fore.
Ricciardo returns to Monaco with 'unfinished business' after seeing a likely victory slip through his hands following a pit stop error from his team last year.
The Milton Keynes squad has struggled to match Mercedes and Ferrari so far this year having been unable to match the downforce and grip levels the top two teams create on fast flowing circuits.
Red Bull issued a sizeable upgrade to its RB13 at Barcelona last time out with more Monaco specific parts expected to be fitted this weekend.
Ricciardo finished third in Spain albeit 75 seconds behind the race winning Mercedes of Lewis Hamilton.
The Australian believes the nature of the Monaco circuit will offer chance to challenge the front runners.
"We have some parts on the car, we had them in Barcelona, we saw it give us bits and pieces but not as much as we still desire and we have more this weekend," said Ricciardo.
"They are Monaco specific (parts) this weekend so hopefully that will give us more than it did a couple of weeks ago and give us a chance to start leaning on the front guys a bit more.
"I think this weekend is a chance if you put everything together in qualifying around here it can give you a good chunk of lap time.
"It is having a level of confidence around here which helps then we will see, see what happens after this weekend. This one's fun, looking forward to it."
"We will wait and see. Certainly looking back on last year there's a bit of unfinished business. I will do what I can.
"I definitely come here with good feelings, good vibes, the level of confidence is still high."
Ricciardo will jump behind the wheel for opening practice from 1800 AEST.