Burgess in no rush to decide future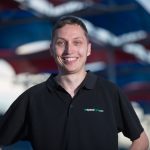 Former Mobil 1 HSV Racing boss Adrian Burgess says he is in no rush to decide his future having received several job offers since his dismissal from the Holden team.
The Englishman has revealed he is weighing up job opportunities in both Supercars, outside of the category in Australia and in Europe.
Burgess has spoken to the media for the first time since his axing from the Clayton squad in an interview on Radio Sport in New Zealand.
After spending three and half years at the Walkinshaw squad, Burgess says he will assess all opportunities thoroughly before making a decision.
"There's been a few offers and a few discussions appear in the last week but at the moment I'm just sitting back and letting those discussions start to come to a point where I can sit down and make a decision on what I do next," said Burgess on the program.
"I'll certainly be going racing; I've always been racing… it's all I've ever done, it's all I ever will do. There are a couple of offers in Supercars, there are a couple of offers outside Supercars and there is an offer back in Europe, but I don't need to rush and I don't want to rush.
"Like everything in life you've got to look at all the information in front of you and make the best decision going forwards.
"I love what I do. I'm a racer, I miss not being at the racetrack, but every now and again you're confronted with these things and you've got to be calm and not panic and run off and do the first thing that's on the table.
"I'm just doing my homework at the moment and then I'll hopefully make a decision in the next few weeks or month or two and then we'll go from there."
Burgess' axing from HSV Racing arrived after a poor start to the current campaign with team owner Ryan Walkinshaw citing his that his operation required fresh leadership.
While unable to go into detail about his exit, he understands the reasons behind Walkinshaw's decision.
"I can't really say too much and I don't want to say too much," he added.
"All these positions that people like myself are in, you've got fairly complex contracts and everyone's got obligations on each side so I'm not really able to talk and it's not really appropriate to talk about that in too much detail.
"But they wanted a change in direction which I can understand and I'm not crying about that. I'm not upset about it, I'm a big boy, I've been doing this a long time.
"They wanted to go in a different direction which is fine, obviously they are ultimately entitled to do that, so we had a chat and decided it wasn't really the way forward for each of us.
"They did what they needed to do for themselves so now I'm in a little bit of a holding pattern. I'm still sort of under contract there so at the moment I'm just sitting back and watching on TV."