Aussie contingent set for Le Mans outing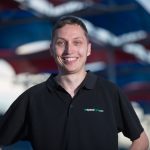 A contingent of Australian drivers are set to tackle the Road to Le Mans race which supports the prestigious Le Mans 24 Hours sportscar classic next month.
Australian GT driver Greg Taylor is gearing up to make his debut at La Sarthe having secured a drive with French LMP3 squad Graff Racing.
Taylor will partner Australian-based Brit James Winslow in one of four Ligier JS LMP3 prototypes fielded by the team in two, 60 minute races over the June 16-18 weekend.
The pair have previously raced together at the operation, winning the LMP3 class at the Abu Dhabi 12 Hour in December last year.
Taylor admits the opportunity is a bucket list moment which he hopes will prepare him for a possible start in the Le Mans 24 Hours next year.
"For me as a driver, when you get an opportunity to drive that track regardless of what race it is you have to take that," Taylor told Speedcafe.com.
"My goal is to go to Le Mans next year with the team in the 24 hour race.
"We have got two days in the simulator when we got over there but I have simulator at my house, so I have been practicing every day for the last couple of months."
Team-mate and former two-time Australian Formula 3 champion Winslow is keen to reunite his partnership with Taylor.
The Englishman will be on double duties having secured a seat in Graff Racing's Le Mans 24 Hours Oreca Gibson LMP2 entry alongside French drivers Enzo Guibbert and Eric Touillet.
"I'm really looking forward to driving with Greg Taylor in the Le Mans LMP3 races, he did such a good job last year in the LMP3 car at Abu Dhabi 12hrs," said Winslow.
"I'm happy to be joining him again and confident we are going to be running right at the very front of this race.
"The event is sensational, the final LMP3 race is run just before the Le Mans 24 Hours starts and in front of the massive 250,000 crowd, we are going to Le Mans with a strong team & looking to win this race."
Joining the pair in a sister Graff Racing LMP3 entry is single seater turned sporstcars driver Scott Andrews.
The Melbourne racer will make his debut at the venue alongside former Radical Australia driver John Corbett.
Andrews has been driving LMP3 machinery in the Asian Le Mans Series and the Michelin Le Mans Cup this year.
"It is going to be pretty exciting to roll through the gates at Le Mans," Andrews told Speedcafe.com.
"To actually be racing there just before the big race kicks off is going to be cool.
"You have to walk before you can run and the goal is to someday get to the Le Mans 24 Hours, and this is a good stepping stone to get to that point."