Nilsson puts results first as team principal decision looms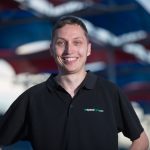 Mathew Nilsson is refusing to allow the opportunity of landing the vacant team principal role at Mobil 1 HSV Racing cloud the immediate focus of turning around the squad's season.
Nilsson has been installed as interim team principal following the dismissal of Adrian Burgess as the squad looks for fresh leadership after a woeful start to the season.
Team owner Ryan Walkinshaw flew in from the UK to oversee Nilsson's first weekend in charge at Winton, which resulted in another difficult round for the team.
During his visit Walkinshaw admitted that the team will conduct a worldwide search for Burgess' successor, while also confirming that Nilsson is effectively 'auditioning for the job' currently.
Flattered by the comments, Nilsson says securing the job on a full-time basis has not entered his mindset yet, with his full focus on improving the team's on track fortunes.
The squad endured another poor weekend at Winton, which saw James Courtney and Scott Pye fail to qualify inside the top 20, with the latter scoring a best result of 15th in Race 9.
"It is a vote of confidence but personally it (securing the Team Principal role) is not even in the back of mind," Nilsson told Speedcafe.com.
"Clearly we have got to get this team back on track before there is any personal gains for anyone.
"My sole focus at the moment is the team and anything beyond that is personal.
"Clearly it is an opportunity but I'm not worried about it. It is far from my mind at the moment.
"In terms of results it was clearly not what we were hoping for (at Winton).
"I can't fault the effort of the team and the drivers to keep banding together and do the best they can under the circumstances.
"Nobody is happy where we are at and we have got a passionate group of people here."
Nilsson led his first debrief on Monday as the team looks to begin the arduous journey of returning to the front of the grid.
Meanwhile, Walkinshaw says he intends to provide more resources for the engineering department to help turn around the poor run of form.
He also revealed during a Fox Sports television interview that all options are being evaluated, including the possibility of aligning with other teams for certain components.
"We're pretty confident that we've got some, if not the, best engines in the category, but from some of the other aspects of the car some teams are well-known for, such as front suspension and so-on, we're obviously looking at those options," said Walkinshaw.
"Previously that was something that was never even discussed but I think that in the last week or so the team and myself and our leadership group have decided we're going to look at various options for that."