John Bowe injured in TCM Winton pile-up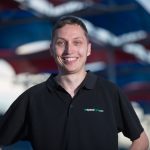 John Bowe suffered cracked ribs after being caught up in a multiple car pile-up which forced officials to abandon the second Touring Car Masters race at Winton.
The two-time Bathurst 1000 winner and reigning Touring Car Masters champion was among a group of nine drivers caught up in the multi-car crash on the opening lap of the race.
Carnage unfolded when Jason Gomersall lost the back end of his Torana on the exit of Turn 2, triggering mayhem further back.
As Gomersall slid across the road a number of cars found the road in front of them blocked, while Bowe was caught out as the field took avoiding action.
Having slid into the path of Eddie Abelnica, the spinning Gomersall was then collected by Mark King leaving both cars with heavy front-end damage.
Sven Burchartz, Tony Karanfilovski, Adam Garwood, Andrew Fisher and Bernie Stack also suffered damage with the latter being taken to Wangaratta Hospital.
Bowe has since revealed he sustained injuries from the incident he feels could have been avoided.
"I am devastated. In case you haven't heard, Race 2 for TCM in Winton was abandoned due to a massive first lap accident," read post on his Facebook page.
"The Torana is incredibly damaged, and I have cracked ribs and am in lots of pain.
"All because someone had a bout of red mist!
"Not only me but seven others have big repair bills and it makes our category look dumb.
"These TCM cars are iconic and we can't afford to be crashing and destroying them."
Bowe is currently undergoing further checks in hospital.