Dane: T8 Winton fightback 'immensely satisfying'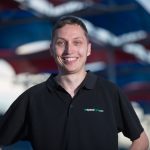 Triple Eight boss Roland Dane labelled his squad's drought breaking one-two triumph at Winton as 'immensely satisfying' following the recent rise of DJR Team Penske.
The Brisbane powerhouse team scored its first points paying win since the season opening Clipsal 500 in March as Shane van Gisbergen led home team-mate Jamie Whincup on Sunday.
Van Gisbergen's triumph followed a run that has seen rivals DJR Team Penske claim five of the last six races prior to the 200km encounter.
The victory was also the team's first at the rural Victorian circuit since the introduction of the Car of The Future in 2013.
Given the fast start to the season made by DJRTP, Dane took particular pleasure in seeing his squad maximise its potential.
"When you've got the level of competition we have, then to be able to get a one-two, is immensely satisfying and a huge team effort really," Dane told Speedcafe.com.
"It really was a team effort, so that is an immense success.
"If you've gone a couple of weekends, for us, without winning, and being reasonably comprehensively beaten in a couple of those races, then of course it's satisfying, and it'll ebb and flow.
"We can't win them all and the other guys are very good opposition, so when you're beating quality opposition then you've got to be satisfied with what you've done.
"We never went away. Bear in mind that we might not have won a race for the last two (race) weekends, (but) there are plenty of teams up and down here who haven't won for 20 weekends, or two years, or longer.
"We've been on the podium every weekend, and we haven't gone away from that, so we've been there or thereabouts but we can't make any mistakes, and on Sunday we didn't really make any mistakes."
Team manager Mark Dutton says the triumph has provided a much needed pressure release, but affirmed the squad cannot afford to relax.
He believes the success was down to delivering a complete performance in the race, revealing that the cars have not undergone any developments since the Perth Super Sprint.
"One hundred percent (it is definitely a pressure release), but it doesn't mean you can back off and be complacent," he added.
"It's a pretty good feeling because everyone in the team loves winning. You don't get used to it, you don't get complacent, it's nothing like that.
"Every win, even when you think it looks easy, is hard-fought, so then to not have one for a while makes everyone hungrier.
"It's such a relief for everyone to pump their chest out and feel proud of the weekend they've done.
"This is the first time we've won the race with the Car of the Future, so it's been a big hoodoo that we wanted to get off the back, let alone with the opposition going as strong as they have been, so I'm really pumped with everyone's efforts."
Van Gisbergen echoed Dutton's thoughts while admitting the win shows the team is responding to the pressure from management to push Triple Eight back to the top of the pecking order.
"It's the third win for the year so pretty cool but we have to keep working hard, Roland's putting a lot of pressure on us and we want to get back in front in the teams' championship and push on," said van Gisbergen.
"Roland's cracking the whip and we're responding, it feels like, and we just have to keep pushing hard."