Winterbottom says backmarker ruined his race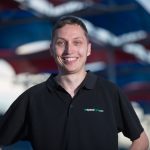 Mark Winterbottom has criticised Supercars rookie Alex Rullo after claiming a late incident ruined his race at the Winton Super Sprint.
The 2015 champion appeared to be on course for sixth position before losing several spots while trying to lap Rullo following a Safety Car restart with 13 laps remaining.
Rullo was third in the queue of cars when the race resumed behind the Red Bulls of Shane van Gisbergen and Jamie Whincup.
The 16-year-old quickly let Fabian Coulthard, Scott McLaughlin and Cameron Waters through.
Having been on the outside of Turn 1, Rullo emerged on the apex of Turn 2 just when Winterbottom caught up to the rear of the #62 Lucas Dumbrell Motorsport Commodore.
Winterbottom lost several positions trying to pass Rullo before eventually coming home in 13th position.
The criticism of Rullo, who is the youngest driver in the series' history, follows similar complaints about backmarkers from the The Bottle-O Racing driver involving Aaren Russell and Kurt Kostecki in 2016.
Stewards elected against conducting an investigation into the incident for a breach of rules.
Winterbottom also criticised the Supercars Suprlicence system, with Rullo awarded a special dispensation to compete this year.
"We were going alright in that race. We were P6 on the road or whatever but it's just frustrating," said Winterbottom.
"They've got this licence criteria and it's just stupid, parking up on an apex with 20 cars coming at you.
"It ruined my race. He's still a lap down, finishes last, it doesn't affect his day.
"We would have finished fifth or sixth where we were and then I got damage when I had to go around him on the marbles.
"In the race we were doing the quickest first and last sector so we were quite quick until the incident."
In response to Winterbottom's comments Rullo felt he had acted accordingly in the situation, claiming he 'couldn't have done batter job' with the fast approaching traffic.
"It's one of those things that happened. He (Mark Winterbottom) can blame it on whatever he wants, but you have good races and you have bad races," Rullo told Speedcafe.com.
"I didn't have a particularly good race either, but I'm not going to throw the blame on Simona for turning me around at the start. I just had a bad race.
"He called me out about it, but I'm not too fussed about it. I'm switched on enough to know what's right and what's wrong.
"From my point of view, with the restart I was just behind the two Triple Eight cars. I didn't get my lap back, so it put me a lap down and put me in the position of restarting the race from third,
"I had the two Penske guys behind me, and I didn't want to potentially wreck the finish of the race between the Penske and the Triple Eight guys.
"Frosty tried to go around the outside, and I think he got on the marbles and ran wide.
"There was nothing else I could have done at that point, given the position I was put in, I don't think I could have done a better job.
"I had to wait for most of the guys, and obviously some of them do get upset when things don't go their way.
"The stewards and the officials didn't seem to see any problems, so that says a lot."
Rullo finished a lap down in 27th position.