McLaughlin powers to comfortable Race 9 victory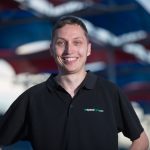 Scott McLaughlin claimed his third championship race win of the season following a commanding drive in Race 9 at the Winton Super Sprint.
The DJR Team Penske driver managed to convert pole position into a lead which was only interrupted briefly during the pit stop cycle.
After seeing off a challenge from Chaz Mostert in the early laps, the Kiwi rejoined the race after his pitstop with a comfortable two second net advantage over the Prodrive driver.
Once the pitstops played out, McLaughlin re-emerged in the lead before cruising to the chequered flag from Triple Eight's Jamie Whincup and DJRTP's Fabian Coulthard.
"I've got a fantastic car under me that pretty much drives itself so it's an amazing car," said McLaughlin, who is just 10 points behind championship leader Coulthard in the standings.
Mostert's podium hopes were dashed when his Falcon developed a suspected tailshaft issue, which forced him back to the garage and into retirement on lap 14.
His demise saw Whincup, who started fourth, inherit second position, but the position was far from safe.
The six-time champion came under pressure from the second Shell Ford of Coulthard, who benefited from an early stop to jump from fifth to third.
Two distinctive strategies played out with teams electing to pit inside the first 10 laps while other electing for long first stints.
Erebus Motorsport's David Reynolds was among a small group to pit late as he ducked into the pitlane on lap 22.
A strong opening stint saw him turn his 14th grid slot into fourth after a late move on Will Davison before the chequered flag.
Davison was also among those to pit later than the leaders, which helped the Tekno Autosports driver claim fifth.
Likewise, Craig Lowndes, who started 19th, was able to complete an even bigger gain by pitting late, as he slotted back into the race in sixth, which he held for the final laps.
Garry Rogers Motorsport's Garth Tander once again showed his racecraft to power through from 13th to seventh in a drive that saw him battle with Shane van Gisbergen and Rick Kelly.
Van Gisbergen, who suffered a slow pit stop, struggled throughout the race as he slipped back from third on the grid to eighth, ahead of Prodrive's Mark Winterbottom at the flag.
The battle for 10th position provided an entertaining scrap in the final laps involving nine cars.
Brad Jones Racing's Nick Percat eventually claimed the spot, although it arrived after contact with James Courtney.
The clash resulted in the Mobil 1 HSV Racing Commodore visiting the gravel trap at Turn 4 on the penultimate lap.
Lee Holdsworth headed the train of cars including Todd Kelly (Nissan), James Moffat (GRM), Michael Caruso (Nissan), Scott Pye and Rick Kelly.
Rick Kelly was fighting with the lead group until he was taken out at Turn 1 by Tim Slade, who locked up when returning from pit lane on lap 25.
Slade was handed a drive-through penalty for his role in the clash.
The top wildcard runner was James Golding in 17th position.
Result: Virgin Australia Supercars Championship Winton Super Sprint Race 9
| | | | | | |
| --- | --- | --- | --- | --- | --- |
| 1 | Shell V-Power Racing Team | Scott McLaughlin | Ford Falcon FG/X | 40 | 54:58.0579 |
| 2 | Red Bull Holden Racing Aust | Jamie Whincup | Holden Commodore VF | 40 | 54:59.6821 |
| 3 | Shell V-Power Racing Team | Fabian Coulthard | Ford Falcon FG/X | 40 | 55:00.4821 |
| 4 | Erebus Penrite Racing | David Reynolds | Holden Commodore VF | 40 | 55:08.4364 |
| 5 | TEKNO Woodstock Racing | Will Davison | Holden Commodore VF | 40 | 55:15.3123 |
| 6 | TeamVortex | Craig Lowndes | Holden Commodore VF | 40 | 55:17.0350 |
| 7 | Wilson Security Racing GRM | Garth Tander | Holden Commodore VF | 40 | 55:18.4816 |
| 8 | Red Bull Holden Racing Aust | Shane Van Gisbergen | Holden Commodore VF | 40 | 55:18.8093 |
| 9 | The Bottle-O Racing Team | Mark Winterbottom | Ford Falcon FG/X | 40 | 55:21.1808 |
| 10 | Freightliner/Alliance Truck | Nick Percat | Holden Commodore VF | 40 | 55:40.4312 |
| 11 | Preston Hire Racing | Lee Holdsworth | Holden Commodore VF | 40 | 55:40.7000 |
| 12 | carsales Racing | Todd Kelly | Nissan Altima | 40 | 55:41.2137 |
| 13 | Wilson Security Racing GRM | James Moffat | Holden Commodore VF | 40 | 55:42.0758 |
| 14 | Nissan Motorsport | Michael Caruso | Nissan Altima | 40 | 55:42.3885 |
| 15 | Mobil 1 HSV Racing | Scott Pye | Holden Commodore VF | 40 | 55:42.8780 |
| 16 | Sengled Racing | Rick Kelly | Nissan Altima | 40 | 55:43.1445 |
| 17 | Wilson Security Racing GRM | James Golding | Holden Commodore VF | 40 | 55:43.5112 |
| 18 | Team CoolDrive | Tim Blanchard | Holden Commodore VF | 40 | 55:43.8886 |
| 19 | Loco Energy Drink | Shae Davies | Nissan Altima | 40 | 55:44.9156 |
| 20 | Drillpro Racing | Macauley Jones | Holden Commodore VF | 40 | 55:52.8636 |
| 21 | Erebus GB Galvanizing Racing | Dale Wood | Holden Commodore VF | 40 | 55:59.5996 |
| 22 | Monster Energy Racing | Cameron Waters | Ford Falcon FG/X | 40 | 55:59.7960 |
| 23 | Team Harvey Norman | Simona De Silvestro | Nissan Altima | 40 | 56:02.2959 |
| 24 | Repair Management Aust Racing | Taz Douglas | Holden Commodore VF | 40 | 56:02.8265 |
| 25 | LD Motorsport | Alex Rullo | Holden Commodore VF | 40 | 56:07.1043 |
| 26 | MEGA Racing | Jason Bright | Ford Falcon FG/X | 40 | 56:14.2036 |
| 27 | Freightliner Racing | Tim Slade | Holden Commodore VF | 40 | 56:14.5371 |
| DNF | Mobil 1 HSV Racing | James Courtney | Holden Commodore VF | 39 | 54:17.0241 |
| DNF | Supercheap Auto Racing | Chaz Mostert | Ford Falcon FG/X | 13 | 18:24.6117 |
Championship Standings
| | | |
| --- | --- | --- |
| 1 | Fabian Coulthard | 931 |
| 2 | Scott McLaughlin | 921 |
| 3 | Jamie Whincup | 918 |
| 4 | Shane Van Gisbergen | 873 |
| 5 | Chaz Mostert | 771 |
| 6 | Mark Winterbottom | 732 |
| 7 | Garth Tander | 702 |
| 8 | Craig Lowndes | 666 |
| 9 | David Reynolds | 621 |
| 10 | Cameron Waters | 583 |
| 11 | James Moffat | 573 |
| 12 | Michael Caruso | 519 |
| 13 | Todd Kelly | 505 |
| 14 | Lee Holdsworth | 498 |
| 15 | Tim Slade | 492 |
| 16 | Rick Kelly | 486 |
| 17 | Scott Pye | 465 |
| 18 | Will Davison | 462 |
| 19 | James Courtney | 429 |
| 20 | Nick Percat | 405 |
| 21 | Jason Bright | 378 |
| 22 | Simona De Silvestro | 378 |
| 23 | Tim Blanchard | 324 |
| 24 | Dale Wood | 299 |
| 25 | Alex Rullo | 198 |
| 26 | Taz Douglas | 177 |
| 27 | Matthew Brabham |  57 |
| 28 | James Golding |  54 |
| 29 | Shae Davies |  48 |
| 30 | Macauley Jones |  45 |