Courtney: Late retirement 'another kick in the face'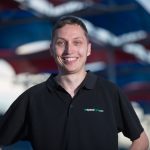 James Courtney labelled his late race retirement from Race 9 at Winton as 'another kick in the face' following a turbulent period for the Mobil 1 HSV racing squad.
The Clayton squad headed to Winton having undergone a restructure following the sacking of team principal Adrian Burgess after a poor start to the 2017 campaign.
A search for successor is underway with Mathew Nilsson taking up the role on a interim basis.
Courtney's race ended up in the gravel trap between Turns 3 and 4 after contact with Brad Jones Racing's Nick Percat on the penultimate lap.
The clash arrived after the 2010 Supercars champion qualified in 23rd and was pushed further back when he was bumped off the track by James Moffat on the opening lap.
However, the 36-year-old managed to scythe his way through field to challenge Percat for 10th position before he race came to an abrupt end.
"I got passed him (Percat) and then he lunged again and he was blocking like crazy," said Courtney shortly after the race.
"On the last lap I got really good turn, got up the inside of him (at the exit of turn 3) and ended up spinning off to the left. It's not the way you want it to end.
"Considering where we've been that (a top 10) would have been good, but unfortunately another one goes away.
"We had a massive swing at it (the set-up) for the race and it was working well.
"The car felt completely different to what it's felt all year, so there's some good and bad points that we'll trawl through tonight.
"But I'm gutted. We've had a hell of a time here with everything going on and to have that is just another kick in the face.
"We'll be right, we'll regroup. We do it because we love it, at points. Hopefully the love comes back."
Meanwhile, Percat, who managed to nurse his car home to 10th spot after the clash, claimed Courtney had instigated the incident after he made contact with the rear of his Commodore.
"JC was into the rear bar pretty aggressively," said Percat.
"Then [there was] a side-by-side exchange, and I'm getting run off the road left so as his car came across me it's fired him over the front of the bonnet.
"It's awkward how the track narrows up, and we kind of have to swing right, then left, then turn in.
"If we can salvage 10th after everything that went on, I'm pretty happy."
VIDEO: James Courtney and Nick Percat collide at Winton
REPLAY 🎞@NickPercat and @jcourtney's last lap crash from all angles. #VASC pic.twitter.com/fyEkhKPAWW

— Supercars (@supercars) May 20, 2017