McLaughlin fastest in hectic rain-affected practice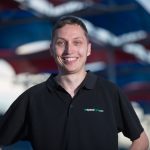 Scott McLaughlin managed to tame challenging wet conditions to top Practice 1 at the Winton Super Sprint.
The slippery track surface tested the field to the limit with drivers describing the track as like driving on 'ice'.
As a result, a group of cars endured wild off-track excursions including pace-setter McLaughlin.
The DJR Team Penske driver was able to post a benchmark 1:43.36s, which proved to be 0.3s faster than Nissan Motorsport's Todd Kelly, who topped the times for the majority of the 45 minute session.
Prodrive's Cameron Waters was third fastest ahead of Rick Kelly (Nissan) and Shane van Gisbergen (Red Bull Holden Racing Team).
McLaughlin's session best arrived shortly before Practice 1 was halted with 13 minutes remaining, when Lucas Dumbrell Motorsport's Taz Douglas found himself beached in the gravel trap at Turn 3.
"At the end there, it was sketchy," said McLaughlin.
"Going down the front straight, I was aquaplaning from the last corner all the way down to Turn 3.
"I just told Ludo (Lacroix) to bring it in. I know the car was okay so I just don't want to get any dents on it."
The opening 10 minutes of the session were littered with incidents, the most notable involving Brad Jones Racing's Nick Percat and Mobil 1 HSV Racing's Scott Pye.
Percat lost control of his Holden on the entry to Turn 1 before clattering into the rear of Pye.
Both cars were sent spinning off the road resulting in significant damage to rear on Pye's chassis, which forced him on the sidelines for the remainder of the session.
Percat was able to return to the track before ending the session seventh behind Fabian Coulthard.
Chaz Mostert also suffered damage to the rear of his Prodrive Falcon from DJRTP's Coulthard early in running, which forced the former back to the garage.
Mostert eventually finished the session in eighth position.
Meanwhile, Rullo was lucky to escape a major high speed off at Turn 1 in the Lucas Dumbrell Motorsport Holden.
The corner caught out Michael Caruso (Nissan), Douglas, Mark Winterbottom (Prodrive), Waters (Prodrive), James Courtney (Mobil 1 HSV Racing), Todd Kelly (Nissan) and Lee Holdsworth (Preston Hire Racing).
McLaughlin (DJR Team Penske) ran wide at the penultimate corner, while David Reynolds (Erebus Motorsport) had a moment at Turn 10 in the opening minutes.
The top 10 was rounded out by Tim Slade and Holdsworth while Garth Tander slotted into 11th ahead of Jamie Whincup and Mark Winterbottom.
Shae Davies, who topped the additional driver practice session, was the top wildcard entry in 22nd position ahead of James Golding in 23rd while Macauley Jones was 28th.
The field will regroup for another 45 minute practice session at 1440 local time.
Result: Virgin Australia Supercars Championship Winton Super Sprint Practice 1
| | | | | | |
| --- | --- | --- | --- | --- | --- |
| 1 | Shell V-Power Racing Team | Scott McLaughlin | Ford Falcon FG/X | 1:43.3667*W | |
| 2 | carsales Racing | Todd Kelly | Nissan Altima | 1:43.6769 W | 00.3102 |
| 3 | Monster Energy Racing | Cameron Waters | Ford Falcon FG/X | 1:43.7273 W | 00.3606 |
| 4 | Sengled Racing | Rick Kelly | Nissan Altima | 1:43.7439 W | 00.3772 |
| 5 | Red Bull Holden Racing Aust | Shane Van Gisbergen | Holden Commodore VF | 1:43.9062 W | 00.5395 |
| 6 | Shell V-Power Racing Team | Fabian Coulthard | Ford Falcon FG/X | 1:44.0037 W | 00.6370 |
| 7 | Freightliner/Alliance Truck | Nick Percat | Holden Commodore VF | 1:44.0734 W | 00.7067 |
| 8 | Supercheap Auto Racing | Chaz Mostert | Ford Falcon FG/X | 1:44.1487 W | 00.7820 |
| 9 | Freightliner Racing | Tim Slade | Holden Commodore VF | 1:44.2908 W | 00.9241 |
| 10 | Preston Hire Racing | Lee Holdsworth | Holden Commodore VF | 1:44.3517 W | 00.9850 |
| 11 | Wilson Security Racing GRM | Garth Tander | Holden Commodore VF | 1:44.4380 W | 01.0713 |
| 12 | Red Bull Holden Racing Aust | Jamie Whincup | Holden Commodore VF | 1:44.4733 W | 01.1066 |
| 13 | The Bottle-O Racing Team | Mark Winterbottom | Ford Falcon FG/X | 1:44.6470 W | 01.2803 |
| 14 | TEKNO Woodstock Racing | Will Davison | Holden Commodore VF | 1:44.6604 W | 01.2937 |
| 15 | MEGA Racing | Jason Bright | Ford Falcon FG/X | 1:44.8966 W | 01.5299 |
| 16 | Mobil 1 HSV Racing | James Courtney | Holden Commodore VF | 1:44.9648 W | 01.5981 |
| 17 | Erebus Penrite Racing | David Reynolds | Holden Commodore VF | 1:44.9665 W | 01.5998 |
| 18 | Wilson Security Racing GRM | James Moffat | Holden Commodore VF | 1:45.3491 W | 01.9824 |
| 19 | Nissan Motorsport | Michael Caruso | Nissan Altima | 1:45.5207 W | 02.1540 |
| 20 | Team CoolDrive | Tim Blanchard | Holden Commodore VF | 1:45.5605 W | 02.1938 |
| 21 | TeamVortex | Craig Lowndes | Holden Commodore VF | 1:45.6026 W | 02.2359 |
| 22 | Loco Energy Drink | Shae Davies | Nissan Altima | 1:45.7088 W | 02.3421 |
| 23 | Wilson Security Racing GRM | James Golding | Holden Commodore VF | 1:45.9417 W | 02.5750 |
| 24 | Mobil 1 HSV Racing | Scott Pye | Holden Commodore VF | 1:46.3291 W | 02.9624 |
| 25 | Team Harvey Norman | Simona De Silvestro | Nissan Altima | 1:46.3736 W | 03.0069 |
| 26 | Erebus GB Galvanizing Racing | Dale Wood | Holden Commodore VF | 1:46.6782 W | 03.3115 |
| 27 | LD Motorsport | Alex Rullo | Holden Commodore VF | 1:47.0792 W | 03.7125 |
| 28 | Drillpro Racing | Macauley Jones | Holden Commodore VF | 1:47.0969 W | 03.7302 |
| 29 | Repair Management Aust Racing | Taz Douglas | Holden Commodore VF | 1:48.6404 W | 05.2737 |