Davies tops wet additional driver session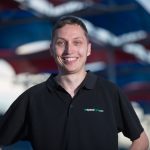 Wildcard runner Shae Davies topped the times in a wet additional driver practice session at the Winton Super Sprint.
The Gold-Coast based driver jumped to the head of the time sheets in the dying minutes of the 30-minute session, which was plagued by torrential rain at the Victorian circuit.
Davies clocked a 1:45.75s which proved 0.3s faster than Jack Le Brocq, who topped the much of the session behind the wheel of the #7 Todd Kelly Nissan Altima.
Richard Muscat, driving the #34 Garry Rogers Motorsport Holden, was third fastest ahead of Luke Youlden in the #9 Erebus Commodore, while Tony D'Alberto completed the top five in the #12 DJR Team Penske Falcon.
Just 23 cars took part in the outing dedicated to additional drivers.
The Red Bull Holden Racing Team cars for Jamie Whincup and Shane van Gisbergen were among the absentees with their co-drivers Paul Dumbrell and Matt Campbell unable to attend.
They were joined on the sidelines by the Tekno Autosport Commodore of Will Davison.
CAMS denied Josh Kean and Matt Chahda from running in the #6 Cameron Waters Ford and the Taz Douglas #3 Holden Commodore, with the pair failing to qualify for a Superlicence.
The #6 did manage to log lap with Dean Canto swapping from the #5 Falcon midway through the session.
Likewise, D'Alberto completed laps in the #17 Falcon towards the end of the hit out.
Several drivers including Davies, Steven Richards (#888 Triple Eight), Dean Fiore (#23 Nissan), Richard Muscat (#34 GRM) and Todd Hazelwood (#21 BJR Commodore) endured off-track excursions.
Ash Walsh (#14 BJR Commodore) suffered the most serious off when he speared into the gravel trap at Turn 3, which brought out the red flags with six minutes remaining.
The top 10 was completed by Macauley Jones (#8 BJR Commodore), Dean Canto (#5 Prodrive Falcon), and Fiore.
Meanwhile, Greg Murphy on his return to competitive Supercars action was 13th in the #62 Lucas Dumbrell Motorsport Holden.
"I'm a little disappointed. Something happened there and it's got water somewhere, maybe the ignition and started misfiring in the end," said Murphy.
"I didn't get to have a play towards the end. We made a couple of changes and I think the car was a bit better.
"When you're in these conditions and you can get in a groove, it's really good fun."
Hazelwood, who made his main game debut for Brad Jones Racing, ended the session in 19th position.
The Supercars field will head back out on track for Practice 1 at 1235 local time.
Result: Virgin Australia Supercars Championship Winton Super Sprint Additional Driver Practice
| | | | | | | | |
| --- | --- | --- | --- | --- | --- | --- | --- |
| Pos | Team | Driver | Car | Laps | Fastest | Time | Gap |
| 1 | Loco Energy Drink | Shae Davies | Nissan Altima | 13 | 12 | 1:45.75 | |
| 2 | carsales Racing | Jack Le Brocq | Nissan Altima | 10 |  5 | 1:46.09 | 0:00.33 |
| 3 | Wilson Security Racing GRM | Richard Muscat | Holden Commodore VF | 15 | 15 | 1:46.31 | 0:00.55 |
| 4 | Erebus Penrite Racing | Luke Youlden | Holden Commodore VF | 10 |  7 | 1:46.37 | 0:00.61 |
| 5 | Shell V-Power Racing Team | Tony D'Alberto | Ford Falcon FG/X |  9 |  4 | 1:46.39 | 0:00.63 |
| 6 | Freightliner Racing | Ashley Walsh | Holden Commodore VF | 13 |  6 | 1:46.54 | 0:00.78 |
| 7 | Freightliner/Alliance Truck | Macauley Jones | Holden Commodore VF | 15 | 14 | 1:46.57 | 0:00.81 |
| 8 | The Bottle-O Racing Team | Dean Canto | Ford Falcon FG/X |  7 |  7 | 1:46.63 | 0:00.88 |
| 9 | Monster Energy Racing | Dean Canto | Ford Falcon FG/X |  7 |  7 | 1:46.64 | 0:00.88 |
| 10 | Nissan Motorsport | Dean Fiore | Nissan Altima | 14 | 14 | 1:46.64 | 0:00.88 |
| 11 | Wilson Security Racing GRM | James Golding | Holden Commodore VF | 15 | 14 | 1:47.00 | 0:01.24 |
| 12 | Mobil 1 HSV Racing | Warren Luff | Holden Commodore VF | 11 |  4 | 1:47.16 | 0:01.40 |
| 13 | LD Motorsport | Greg Murphy | Holden Commodore VF | 10 |  7 | 1:47.19 | 0:01.43 |
| 14 | Mobil 1 HSV Racing | J.Courtney/J.Perkins | Holden Commodore VF | 12 | 11 | 1:47.26 | 0:01.50 |
| 15 | Supercheap Auto Racing | Steve Owen | Ford Falcon FG/X |  8 |  6 | 1:47.27 | 0:01.51 |
| 16 | TeamVortex | Steven Richards | Holden Commodore VF | 15 | 14 | 1:47.32 | 0:01.56 |
| 17 | Sengled Racing | David Wall | Nissan Altima | 15 | 10 | 1:47.35 | 0:01.59 |
| 18 | Preston Hire Racing | Karl Reindler | Holden Commodore VF |  5 |  5 | 1:47.47 | 0:01.71 |
| 19 | Team CoolDrive | Todd Hazelwood | Holden Commodore VF | 12 |  6 | 1:47.79 | 0:02.03 |
| 20 | Team Harvey Norman | David Russell | Nissan Altima |  8 |  7 | 1:48.06 | 0:02.30 |
| 21 | MEGA Racing | Garry Jacobson | Ford Falcon FG/X |  8 |  6 | 1:48.24 | 0:02.48 |
| 22 | Shell V-Power Racing Team | Tony D'Alberto | Ford Falcon FG/X |  4 |  2 | 1:48.35 | 0:02.59 |
| 23 | Erebus GB Galvanizing Racing | Chris Pither | Holden Commodore VF |  4 |  3 | 1:50.67 | 0:04.91 |