Slade to partner Grove in Porsche Pro-Am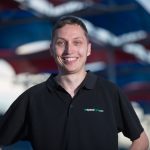 Brad Jones Racing driver Tim Slade will contest the Porsche Carrera Cup Australia Pro-Am round alongside category regular Stephen Grove at Phillip Island.
Slade has participated in the last two Porsche Pro-Am two driver events but this season's edition at Phillip Island will see him partner Grove.
The South Australian will replace Scott McLaughlin in the #4 Porsche with the Kiwi's DJR Team Penske commitments keeping him out of his regular Carrera Cup seat this year.
"It's always great any time you get the chance to jump in a Porsche Carrera Cup car," said Slade, who has co-driven with Adrian Mastronado for the previous two seasons.
"The cars are sensational to drive, especially at Phillip Island, on a really good tyre and the result is that the racing is always very competitive," said Slade.
"The Pro-Am events are always really enjoyable so I'm happy to be jumping in alongside Steve at Phillip Island.
"Adrian (Mastronardo) and I have had a great time the last few years and we've always been quick, so hopefully that can continue.
"Grove Racing has a really strong record at these events and hopefully we can continue that this year.
"There are a lot of points up for grabs so it's an important weekend for the Challenge championship, so we'll be working hard to get two strong results and a good points haul for Steve."
Grove has enjoyed success at Phillip land after scoring a maiden outright Carrera Cup round victory alongside McLaughlin in 2014.
The 2014 TAG Heuer Carrera Challenge class champion recently took part in a round of the Carrera Cup France series at Belgium's Spa-Francorchamps circuit.
"I'm really looking forward to the Pro-Am this year; you have twice the number of drivers so there are a whole lot of people to compete with. It's also a great learning experience, so I can't wait," said Grove.
"Racing at Spa last weekend was great preparation for the Pro-Am; both Phillip Island and Spa are fast, free-flowing race tracks.
"The Pro-Am will be the only occasion this year, outside the joint Challenge race at Sepang, that I can get an outright win. I've had the pleasure to start from the front row at Phillip Island before, which is incredible because you don't usually get that opportunity.
"Let's hope we can be at the front again this year and hopefully compete for another outright Pro-Am win."
Grove Racing will enter two cars at the Phillip Island Shannons Nationals event, with Stephen's son Brenton to tackle the Porsche GT3 Cup Challenge Australia round to be held on the same weekend.