Courtney: Back to basics approach after Burgess sacking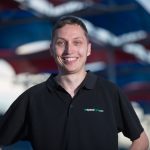 James Courtney says the Mobil 1 HSV Racing team will go back to basics at the Winton Super Sprint this weekend following the axing of team principal Adrian Burgess.
The Clayton operation heads to the rural Victorian circuit without Burgess after the organisation elected to terminate his contract with immediate effect last Friday.
Walkinshaw Racing has reshuffled its pack with the experienced Matthew Nilsson promoted to Acting General Manager of Motorsport while it searches for a permanent replacement.
Burgess had led the team since 2014 after being poached from Triple Eight Race Engineering midway through 2013, before the squad's desperately poor start to the 2017 season triggered his sacking.
The team's form reached a new low point at the Perth Super Sprint, which sparked an outburst from the #22 Commodore driver.
Courtney has long been associated with Burgess in a relationship which stretches back to when he raced for Carlin in the 2002 British Formula 3 Championship.
The partnership continued in Australia with the Englishman part of the Dick Johnson Racing squad that guided Courtney to the 2010 Supercars title.
Declining to answer questions directly related to Burgess' sacking, the Gold-Coast based driver is not expecting results to improve instantly at Winton.
However, he says the team has regrouped under the guidance of Nilsson and is beginning the arduous journey back to the front of the field.
"Obviously a lot has changed (since Perth)," Courtney told Speedcafe.com.
"The changes are not going to produce instant results, it is still very much the same gear we are using.
"We have regrouped and we will go there (Winton) and give it our best.
"Ryan (Walkinshaw) has made the decision to try and make the team better. As a team we are not happy and we want to have success, so we are working towards that.
"We are just going to go back to basics and stop trying to be too smart with a few things and just have a solid weekend. That is what we need.
"We know we haven't got the fastest car but we definitely don't have a car that is only good for 20th. We have got to make sure we get the most out of what we have got now until we can better that."
When asked what the squad requires to turn its season around, he added, "I think the magic bullet is a Frenchman known by a four letter word (referring to DJR Team Penske's Ludo Lacroix).
"He is the silver bullet but unfortunately he is not loaded in our chamber, so we are still working (on what we have)."
While Winton is the team's designated test track, Courtney believes the circuit knowledge will carry little weight ahead of this weekend's meeting.
"It is pretty tough to call it our test track nowadays," he added.
"We have three test days a year and one of them has to be with Supercars at Sydney Motorsport Park, so previously we did have a lot of experience there, but in the last little bit not a lot.
"I'm not going there thinking we have got the set up nailed and we are going to be showing Triple Eight and Penske the way around.
"We would be foolish to say that. We have just got to make sure we do what we can with what we've got until we have something better to play with."