POLL: Will a leadership change help Walkinshaw Racing?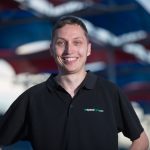 Mobil 1 HSV Racing's poor start to the season saw them take action last week with the departure of team principal Adrian Burgess.
Walkinshaw Racing confirmed that Burgess' contract had been terminated with immediate effect, ending a tenure at the Clayton squad which began in 2014.
Lying sixth in the teams' standings, owner Ryan Walkinshaw cited the need for a fresh approach to arrest the squad's performance slump.
Experienced Walkinshaw hand Matthew Nilsson has been placed in charge on an interim basis while a successor is sought.
The decision has shocked many in the Supercars paddock with seasoned pundit Mark Larkham questioning the leadership of owner Walkinshaw following Burgess' axing.
The move arrives after a particularly difficult start to the 2017 season, which has yielded just two top 10 finishes with its Holden Commodores for James Courtney and Scott Pye.
Its poor form reached a new low point at the recent Perth Super Sprint where Pye scored the squad's best result of 14th, while Courtney laboured to 17th and 22nd.
This season is also the first since the outfit lost factory support from Holden and the Holden Racing Team moniker, which has been transferred to rivals Triple Eight.
During the past three years, the team has scored seven race wins, with sixth its best overall championship finish with Courtney (2014) and Garth Tander (2015).
The form is a far cry from the days when it was a powerhouse squad, winning drivers' titles in 1996, 1998, 1999, 2000, 2001 and 2002.
Its customer HSV Dealer Team also enjoyed triumphs by winning back-to-back titles in 2006 and 2007.
Eager to repeat those past successes, the squad is now looking for a new leader to guide them back to the front of the grid.
Will a change of leadership see Walkinshaw Racing return to the front of the Supercars field?
Cast your vote below on this week's Pirtek Poll.
Walkinshaw Racing's Supercars record under Adrian Burgess
| | | | | | | | |
| --- | --- | --- | --- | --- | --- | --- | --- |
| Year (Races) | Driver | Wins | Podiums | Top 10s | Poles | Championship result | Remarks |
| 2014 (38) | James Courtney | 2 | 9 | 24 | 2 | 6th | |
| | Garth Tander | 1 | 7 | 24 | 0 | 9th | |
| | Nick Percat | 0 | 2 | 14 | 0 | 12th | James Rosenberg Racing |
| | Tim Slade | 0 | 3 | 9 | 0 | 17th | |
| 2015 (36) | Garth Tander | 0 | 3 | 21 | 0 | 6th | |
| | James Courtney | 2 | 6 | 25 | 3 | 10th | Injured: SMP, Sandown, Bathurst |
| | Tim Slade | 0 | 1 | 12 | 0 | 13th | |
| | Lee Holdsworth | 0 | 0 | 9 | 0 | 14th | Charlie Schwerkolt Racing |
| | Jack Perkins | 0 | 0 | 1 | 0 | # | SMP, Sandown, Bathurst stats |
| 2016 (29) | Garth Tander | 1 | 4 | 16 | 1 | 9th | Won Sandown 500 |
| | James Courtney | 1 | 4 | 15 | 0 | 11th | |
| 2017 (8*) | James Courtney | 0 | 1 | 2 | 0 | 15th | |
| | Scott Pye | 0 | 0 | 0 | 0 | 18th | |
* Season in progress