Larkham shocked by Adrian Burgess axing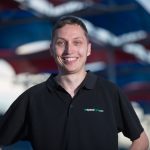 Supercars analyst Mark Larkham says the decision to axe Adrian Burgess is a 'big call' by Ryan Walkinshaw following the team's difficult start to the season.
The Mobil 1 HSV Racing team confirmed that Burgess' contract had been terminated on Friday with team owner Wakinshaw citing the need for a fresh direction for his ailing team.
Burgess' tenure with the team officially began in 2014 after being poached from Triple Eight Race Engineering midway through 2013.
The squad is languishing sixth in the teams' standings after recording just two top 10 finishes in eight races with its Commodores for James Courtney and Scott Pye.
Perth saw the team's struggles continue with Pye scoring a best result of 12th in the race, while star driver Courtney could only qualify 24th and 20th and finish 17th and 22nd in the two races at Barbagallo Raceway.
Despite the desperate results, Larkham was surprised by the removal of Burgess and has questioned the leadership of the operation.
"That blindsided all of us. Adrian is one of the key players in our game," said Larkham on Network 10's RPM motorsport magazine show.
"You've got drivers, you've got team principals but there's guys that sit in the middle of them. There's only three or four that I really rate and he's right at the top of the tree.
"It's a big call to get rid of him. There's obviously some cultural issues down there.
"There's issues here for me around leadership.
"That's taking nothing away from Ryan, he's across it, he's got to travel around the world, but Adrian has got a much bigger role to play in that game than just running the race team.
"I've been lucky enough to see what wins and what loses down pitlane. Garry Rogers, Brad Jones, Roland Dane, those guys are on the ground every weekend and back in the workshop.
"Ryan Walkinshaw because he runs a raft of very successful businesses means he's not. He's there at some of them and that leaves Adrian to run everything. I think that's hard."
The squad has promoted the experienced Matthew Nilsson as Acting General Manager of Motorsport while it searches for a replacement.
VIDEO: Larkham on RPM