Force India cops $37,000 fine for number breach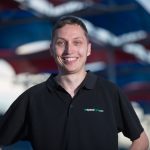 FIA stewards has lumped Force India with a 25,000 euro ($37,000 AUD) fine for breaching the regulations regarding the placement of numbers on its cars at the Spanish Grand Prix.
Officials deemed the Silverstone-based operation had failed to adhere to a new directive issued to teams aimed to help ease the identification of cars by fans on television and trackside.
The sizing of the numbers have been enlarged to at least 230mm tall while teams were encouraged to display driver names more clearly on the car.
Despite passing scrutineering, Force India was summoned to the stewards following Sunday's race, where it was handed a suspended fine for 12 months.
The squad will be made to rectify the situation before the Monaco Grand Prix (May 25-28).
"In view of the following mitigating circumstances, the fine is suspended for a period of 12 months pending no further infringements of this nature," read a statement.
"The mitigating circumstances are: the competitor was not challenged about the numbers prior to the race; the numbers (size, colour and location) were not changed during the event; the Competitor has offered to work with the FIA and rectify the situation immediately."
The fine arrives after an impressive display from drivers Sergio Perez and Esteban Ocon, who finished fourth and fifth respectively at Barcelona.