Mallala set for revamp under new ownership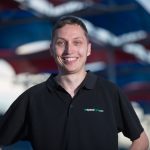 Mallala Motorsport Park is set to undergo a revamp in order to attract national events following its acquisition by the Peregrine Corporation, run by successful businessman Sam Shahin.
The organisation responsible for the construction of the new state-of-the-art The Bend Motorsport Park at Tailem Bend, South Australia, completed the purchase of the 2.6km Adelaide circuit this week.
A change of ownership arrives after Mallala's legendary former owner Clem Smith, who bought the track in 1977, died in February this year.
The Shahin family has injected significant investment in South Australian motorsport in recent years, which is spearheaded by the build of a world class FIA grade 2 motorsport facility at Tailem Bend, due to open in 2018.
The group says Mallala will complement its new The Bend Motorsport Park facility and is integral to revitalising grassroots motorsport in South Australia.
Shahin is eager to improve the circuit's infrastructure to enable the venue to become a player on the national motorsport scene by attracting events such as the Shannons Nationals.
The track, which last hosted the Australian Touring Car Championship in 1998, has struggled to attract major national events in recent history since dropping off the Shannons Nationals calendar in 2015.
Drifting and motorcycle meetings have proved its mainstay over the last two years.
"The opportunity to acquire the facility came up earlier this year and I saw it as a great fit for the advancement and the development of the sport in South Australia and across Australia," Shahin told Speedcafe.com.
"Mallala services a different clientele in that it is quite different to The Bend Motorsport Park.
"I see it as quite complementary to the development of grassroots motorsport in South Australia.
"The two venues across the state will help us establish state based championships and get more people to clean out their sheds and dust off their helmets and participate.
"I really see no reason that if Mallala was of a standard capable of hosting a Shannons Nationals round or a Supercars round, there should be no reason why it shouldn't participate at those levels.
"It is a little premature to talk about Supercars but certainly national events I see Mallala participating in quite strongly.
"Up until the very recent past it used to host a round of the Shannons Nationals and we would like to see that back very soon."
Shahin says his team will conduct an audit of Mallala to determine the key areas of investment the circuit requires to bring it up to standard.
"We have a track record of not beating around the bush," he added.
"If we put our name to doing something we will do it well.
"Mallala will conduct a comprehensive audit on what the facility might need and we will improve it in as much so we can to enable it to participate at a national level.
"I hope in time we will invest and bring the facility up to a standard where it can look any facility in the eye and be able to cater for the modern requirements of national standard events."
Current circuit staff have been retained following the sale of the facility, while its scheduled calendar of events is set to continue.