DJRTP targets NASCAR style development program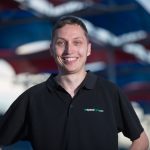 A NASCAR style development program alongside a clinical approach to race weekends is required to ensure DJR Team Penske maintains its strong start to the Supercars season.
The Queensland operation has emerged as the team to beat this season having won four of the eight championship races this season.
DJRTP further enhanced its impressive start to the season with a dominant display at the Perth Super Sprint, resulting in a double victory for Scott McLaughlin.
A fast start to the season has the squad sitting atop the teams' standings, while Fabian Coulthard holds a 19 points lead in the championship, with team-mate McLaughlin 31 points back in fourth.
Impressed by the turnaround from his organisation from last year, team boss Roger Penske, who witnessed the triumph in Perth, says his squad must stay focussed to keep its championship bid on track.
Penske has drawn comparisons from his NASCAR program which sees the cars undergo regular updates to keep its advantage over its rivals.
"In our NASCAR cars every weekend we have new stuff. I think what we have to do is we have to continue, it is the little things, we are stacking pennies right now, it isn't quarters and dollar bills, we are stacking pennies," Penske told Speedcafe.com.
"I think we have to continue to do that and we have to not make mistakes.
"We had a pit road violation in Phillip Island for running over the dotted line and we had a red light that we went through, we can't win a championship making those kind of mistakes.
"The competition is too tough."
DJRTP managing director Ryan Story echoed Penske thoughts reiterating that the team cannot afford to miss a beat with its development program given the competition from Triple Eight and Prodrive.
A congested schedule at the start of the season has provided a challenge for the team with regard to its development cycle, facing races every fortnight.
However, Story is well aware of the consequences if the operation is stagnant on the development front.
"We were really proud to come away with two wins and a really solid showing in front of Roger Penske and the entourage from America," he added.
"It (winning) does put a spring in everyone's step but there is no rest for the wicked.
"To maintain that level of competitiveness we cannot stop we have to keep pushing because everyone else is.
"Make no mistake we are not resting on our laurels, there is only 31 points between the top five in the series.
"This series is so super competitive. We are going to track to track in a congested calendar so our focus at the workshop has been limited with the cars only here for three or four days before we have to turn them around.
"We have had to work hard when it comes to developments by making sure the engineering train and the production pipeline that exists here is really geared up to the those small gaps.
"Like so many other teams we have a number of guys that don't travel to events but there is a real impetus on us to optimise some of those processes, so we ensure that we are getting new bits on the car, despite the fact we are time limited at the moment.
"So far so good we have seen that we have made some inroads there, but we can't stop motoring ahead because the other teams certainly aren't and we have got some pretty tough competition."
DJRTP will aim to continue its positive start to the year when the championship heads to Winton next weekend.