Aaron Seton joins Kumho V8 grid at Winton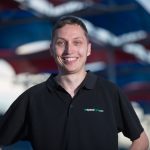 Aaron Seton will make his Supercar racing debut when lines up in the Kumho V8 Touring Car Series at Winton next weekend.
The son of two-time Australian Touring Car champion Glenn Seton will pilot a Ford Falcon BF owned by Rod Dawson in the third tier Supercars series.
Seton, who is driving in the Toyota 86 Racing Series, had been eyeing a move to the series after testing the car at Queensland Raceway in March.
The drive at Winton is a one-off at this stage although the 18-year-old hopes to make a further outing at Queensland Raceway in July.
The car, a spare chassis from WPS Racing, has seen service in the Super 2 series in the hands of Luke Youlden and Ryan Hansford.
Seton easy the opportunity will provide valuable experience as he looks to rise up the touring car ladder.
"It's an awesome opportunity that Rod Dawson has given me, and I can't wait to get my first experience in one of these cars," he said.
"It was great to get some experience in the car and feel what they're like.
"We've worked hard to put all of this together so I'm looking forward to getting to Winton and seeing how we go.
"It's all about getting laps and experience so we're going in with no expectations.
"We'll go there and have fun, experience the car and race in front of the Supercar teams in a Supercar."
Seton hopes to be able to tap into the experience of his 1993 and 1997 ATCC winning father Glenn if required during the Winton weekend.
"Whenever I have a question I can go to Dad and ask him anything," Aaron added.
"He gives good feedback when you're doing something wrong so as a driver it's good to have someone like him on your side."
Seton's inclusion will see an 18-strong field take to Winton, with local driver Jordan Boys leading the standings following his stunning victory on debut at Phillip Island last month.
Kumho V8 Touring Car Series Winton Entry List
| | | | | | | |
| --- | --- | --- | --- | --- | --- | --- |
| Car # | Class | SPONSOR | DRIVER | State | VEHICLE | COLOUR |
| 6 | Championship | 501 Performance | Tony Evangelou | VIC | Ford Falcon BF | Red/Blue |
| 7 | Kumho Cup | Mocomm Motorsports Communications | Jim Pollicina | NSW | Commodore VE | Red |
| 11 | Kumho Cup | Kenwood Homes | Michael Anderson | NSW | Ford Falcon FG | Red/White |
| 12 | Kumho Cup | Century 21 Hazelbrook | Chris Delfsma | NSW | Ford Falcon BF | Red/Blue/Whi |
| 14 | Championship | Image Racing/Lubrimaxx | Josh Smith | QLD | Ford Falcon FG | White |
| 17 | Heritage | Stapleton Motorsport | Troy Stapleton | VIC | Ford Falcon EL | Yell/Red/Blue |
| 21 | Championship | Brad Jones Racing/SCT Logistics | Jack Smith | QLD | Commodore VE ll | Red/Grey |
| 23 | Kumho Cup | Massel | Michael Caine | NSW | Commodore VE | Red |
| 30 | Championship | Aaron Seton Racing | Aaron Seton | QLD | Ford Falcon BF | White |
| 38 | Championship | Eggleston Motorsport | Tyler Greenbury | QLD | Commodore VE ll | Black |
| 39 | Kumho Cup | Vectra Corp | Chris Smerdon | SA | Ford Falcon FG | Blue/Yellow |
| 46 | Kumho Cup | Premium Shower Screens & Robes | David Wright | VIC | Commodore VY | Black |
| 49 | Championship | Image Racing/Lubrimaxx | Jordon Boys | VIC | Ford Falcon FG | White |
| 54 | Championship | Eggleston Motorsport | TBA | | Commodore VE ll | Black |
| 55 | Heritage | Neill Motorsport | Bradley Neill | QLD | Commodore VS | Blue |
| 69 | Kumho Cup | Dial Before You Dig/Mac Motorsport | Jon McCorkindale | NSW | Ford Falcon BF | Green |
| 77 | Kumho Cup | Protrack Automotive Performance | Gary Collins | VIC | Commodore VE ll | Black |
| 88 | Kumho Cup | WakeUp! Backpackers | Warren Millett | NSW | Commodore VZ | Black/Red |