LDM calls for consistency in Supercars penalties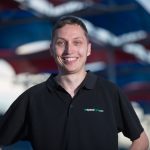 Lucas Dumbrell is calling for consistency regarding Supercars penalty decisions after labelling Alex Rullo's Race 8 sanction as 'questionable'.
The boss of Lucas Dumbrell Motorsport admitted he was 'bewildered' by a 15 second penalty being issued to Alex Rullo for turning around Crag Lowndes in the early stages of Race 8.
Lowndes was attempting to enter pit lane before contact from the LDM driver sent the #888 Triple Eight Commodore into a spin.
Dumbrell felt his driver was harshly punished after drawing from a similar incident earlier this year, when James Courtney made contact with rear of Simona de Silvestro, forcing the Nissan driver into a spin while she attempted to enter pit lane at the Clipsal 500.
Stewards investigated the incident in Adelaide before deeming the matter did not require any sanction.
"I think that penalty was a bit questionable," Dumbrell told Speedcafe.com.
"I don't think there is consistency at play in the rules.
"The only reason they made contact was because Lowndes got out of the throttle. Alex wasn't carrying that much more momentum and he has turned him around.
"Craig couldn't have been more to the left hand side of the road yet in Adelaide with Simona and Courtney she was mid road and he got off. I'm just a bit bewildered by that.
"Once again the consistency of penalties is not there and it is going come up again."
Although hampered by the penalty, Dumbrell continues to be impressed by Rullo, who has made the leap from Dunlop Super2 to Supercars this year.
The teenager managed to qualify within 1.05s of the Race 8 pole-sitter Scott McLaughlin, while finishing both heats in 24th and 25th respectively.
"I really want to see Alex succeed and I think he will," Dumbrell added.
"Perth was only his fourth championship round and I think he is doing a good job.
"I know he had high hopes but he just needs to progress and learn each time.
"My big tick from the weekend was he did a great job in qualifying, I couldn't have been happier with his effort."