Walkinshaw refutes Courtney chassis claims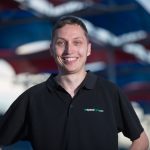 Ryan Walkinshaw has rubbished claims that there is a fundamental issue with James Courtney's chassis following an outburst from the Mobil 1 HSV Racing driver at Barbagallo Raceway.
Courtney struggled for car speed throughout the Perth Super Sprint weekend which led to an outpouring of frustration in front of television cameras after qualifying 20th for Sunday's Race 8.
The 2010 Supercars champion said the car felt 'possessed' while referring to claims made by the squad's former driver Garth Tander, who also criticised the same chassis last year.
Courtney switched to the chassis at Phillip Island after the car he started the season with sustained heavy damage in the 12-car pile up in Race 3 at Symmons Plains.
When asked about Courtney's comments, Walkinshaw refused to entertain his driver's view, while outlining that the car has passed a series of tests without presenting an issue.
The current #22 Commodore was crashed heavily at the Bathurst 1000 in 2014, before guiding Tander to victory in the Pirtek Enduro Cup after a rebuild in 2015.
"We will go through the data and try and understand but we have done every test we can possibly think of doing on that chassis to make sure it is up to scratch and it has come out fine in every test we have done," said Walkinshaw.
"I would suggest it has more to do with us not having the car set up in the right window at the moment and we need to sort it out.
"If something comes up to the contrary obviously we will look at it and then have the conversation.
"We are going to look at all the evidence, but it will be based on evidence and not what people in the press report about it, and what previous drivers have said about it."
Courtney's frustration highlighted a particularly trying weekend for the Walkinshaw squad.
Both Courtney and Scott Pye were mired in the midfield, with the latter achieving a weekend best result of 14th in Sunday's race.
Courtney finished 17th and 22nd in the two races while a fuel miscalculation forced him to pit late in Race 8, adding to his woes on Sunday.
Walkinshaw expects his team to undergo a thorough debrief to understand the team's recent slump.
"No one likes having a bad race weekend and coming off another bad race weekend last time as well, it compounds the frustration," he added.
"James is frustrated but no one is more frustrated than myself and everyone else in the team.
"When we go out there we want to go and win races and the last couple of weekends haven't been great, we need to do a better job.
"In all seriousness we have to look at how all the cars are working on the track.
"We didn't have a bad weekend here last year, so we need to understand what went right last year and what went wrong this year.
"There has been a few changes on the car obviously in that time. We just need to get our heads around the data when we get back and look at it not with emotion, but with a rational mindset."