Rules unchanged after Perth qualifying incident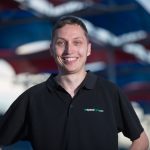 Supercars has confirmed there will be no change to the rules following a controversial incident in Saturday's qualifying session at the Perth Super Sprint.
Stewards issued Simona de Silvestro with a five-place grid drop for today's race after she was deemed to have impeded drivers Shane van Gisbergen and Michael Caruso during the 15 minute session.
The Nissan driver was driving slowly on the racing line on the entry to the final corner as she prepared for her own hot lap.
De Silvestro had been following team-mates Rick Kelly and Todd Kelly, who were also moving slowly on the racing line.
As a result, Caruso was forced to take evasive action, while van Gisbergen took to the grass to avoid contact.
The recommended 'go point', located on the back straight for starting fast laps was brought into question.
However, according to a report on the championship's official website the 'go point' will not be made mandatory and managing traffic in qualifying will be in the hands of the teams.
"We have a recommended 'go point' for every circuit that is clearly communicated to the drivers," Supercars COO Shane Howard told Supercars.com.
"While that is a recommendation, ultimately it's up to the teams and drivers to manage where their cars are on the circuit and when they accelerate. That's not our role.
"Track positioning has always been part of the challenge of qualifying and this circuit emphasises that due to being a very short lap.
"The drivers and teams know that they are not to impede other cars and if they are deemed to have done so then they'll likely be penalised, as was the case with Simona."
Speaking in Saturday's press conference six-time champion Jamie Whincup was against the introduction of a mandatory 'go point' while agreeing the matter should be dealt with by the teams.
"I'm not going to say we should have a (compulsory) go point where everyone has to go," said Whincup.
"I think minimising rules is a good thing.
"(But) everyone was dawdling around the last corner. We have come up over the hill and everyone has stopped. There could have been a massive one (shunt).
"Everyone, not only the drivers, the teams should be on the radio as well saying who is going quick and where."
The Supercars field will contest a 20 minute qualifying session to determine the grid for Race 8 at 1055 local time.