Penske expects Falcons to continue in 2018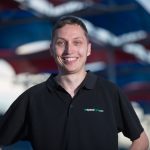 Roger Penske expects his squad to continue running Ford Falcons in Supercars next season despite the possibility of developing a Mustang for 2018.
DJR Team Penske has been evaluating all of its options as possible replacements for the Falcon FG X, which is no longer in production in Australia.
However, such a project to develop a new car for Supercars' Gen2 rules, which permits two-door body types, will require the blessing of Ford.
The team stated earlier this year that such a commitment is a long way off, while rival Ford team Prodrive said it is yet to reach a decision regarding the Mustang.
Legendary race team owner Penske sees no rush in moving from the current Falcon package, with his reasoning backed up after witnessing a dominant 1-2 from drivers Scott McLaughlin and Fabian Coulthard at the Perth Super Sprint.
While refusing to rule a move to the Mustang brand in the future, he expects the team to stick with the proven FG X next year.
"It would be great to see at some point to maybe take on that brand and that model in the future, but at the moment why change something that is running as well as we are right now?," Penske told Speedcafe.com.
"I don't see at the moment any way that we could run anything other than what we have this year to be honest, from an engine standpoint and a car standpoint.
"It takes a significant about of capital too (to develop a new car) and without getting any manufacturer support we are not ready to go down that road at the moment.
"You know there has been lots of noise (around the Mustang) and I read this back in the States. I have had not one conversation with anyone at Ford Australia and I don't think Tim Cindric has either."
The team's FG X package is currently the best car on the grid with the squad sitting atop the teams' championship after scoring three championship race wins.
Given the speed of the squad's turnaround from last year, Penske admits the team's impressive start to the season has exceeded his own expectations.
Twelve months ago the team were mired in the midfield with drivers Coulthard and Scott Pye finishing outside the top 10 in both races at Barbagallo Raceway.
"It has really outrun my expectations, there is no question of that," he added.
"On the other hand, we have to expect the best.
"You know with two drivers, and they are committed.
"Think about McLaughlin he left a very good team and Fabian was a winner when he came to us, so they have really committed themselves to Team Penske and Dick Johnson, and with that we need to provide them with the best cars and I think we are doing that today.
"They have been a great part of this catalyst, you know, to provide the success we have had.
"It is an amazing start to the season, I certainly don't want to get ahead of myself.
"I think it (the performance) is much better than it was last year, we are on the podium, we have won races, but it is a long season.
"It isn't just 18 holes, there are many holes to play and we have got some great competitors."
The team will return to action today for the final 200km instalment of the Perth Super Sprint.