McLaughlin edges Mostert to Armor All pole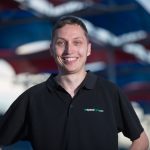 Scott McLaughlin scored his fourth Armor All pole position of the season after edging Prodrive's Chaz Mostert in a hotly contested session at Babargallo Raceway.
McLaughlin pumped in a record 54.57 effort with six minutes of the 20 minute hit-out remaining which proved just enough to claim pole.
The DJR Team Penske driver jumped out of his car while the majority of the field completed their final runs.
"I was a bit worried but thankfully held onto it. I felt that that lap was basically all I could get out of it, and if anyone could beat me, good on them. I'm stoked," said McLaughlin.
A flurry of fast times in the dying moments saw Mostert climb to second just 0.04s shy of McLaughlin.
"It is the best the car has felt all weekend," said Mostert.
"Yesterday didn't go to plan, the race car didn't feel quite well and the qualifying car, but the boys did a brilliant job overnight to tidy this thing up and get the car back to feeling like it has the last couple of rounds.
"Overall I'm really ecstatic, Front row feels like a pole position after yesterday, see if we can put a little bit more pressure on those Shell guys."
Prodrive enjoyed a much stronger showing in qualifying with Mark Winterbottom heading up the second row in third ahead of top Red Bull HRT runner Shane van Gisbergen.
Saturday's pole-sitter Fabian Coulthard could only manage fifth in the sister #12 DJRTP Falcon.
The Kiwi will share the third row with Jamie Whincup in the #88 Red Bull HRT Commodore.
Prodrive's Jason Bright produced an encouraging display to secure seventh ensuring three of the team's Falcons were inside the top 10.
The top 10 was completed by Tekno Autosports Will Davison, Nissan Motorsport's Rick Kelly and Erebus Motorsport's David Reynolds.
Craig Lowndes was unable to match his Triple Eight team-mates in 18th, while worse was to befall Mobil 1 HSV Racing's James Courtney, who was mired in 20th spot.
Simona de Silvestro qualified in 22nd position but will be relegated to the back of the grid following her five-place grid penalty.
She will share the final row of the grid with Supercars debutant Matthew Brabham.
"I feel like I am getting the reputation of being the dirtiest driver out there a little bit (she chuckles)," said de Silvestro.
"It was a weird situation I kind of got put in because everyone was kind of slow trying to find a gap.
"I saw Chaz coming with lights but he wasn't really on a lap.  It is frustrating to get a penalty and things like that.
"I think today the same thing happened to somebody else, so we will see if they get a penalty as well.
"It is what it is, just have to start from the back this weekend and just move forward."
Supercars will return for Race 8 (200km) at 1415 local time.
Results: Virgin Australia Supercars Championship – Perth Super Sprint, Qualifying for Race 8
| | | | | | |
| --- | --- | --- | --- | --- | --- |
| 1 | Shell V-Power Racing Team | Scott McLaughlin | Ford Falcon FG/X | 0:54.5730RSS | |
| 2 | Supercheap Auto Racing | Chaz Mostert | Ford Falcon FG/X | 0:54.6209rSS | 00.0479 |
| 3 | The Bottle-O Racing Team | Mark Winterbottom | Ford Falcon FG/X | 0:54.6243rSS | 00.0513 |
| 4 | Red Bull Holden Racing Aust | Shane Van Gisbergen | Holden Commodore VF | 0:54.6568rSS | 00.0838 |
| 5 | Shell V-Power Racing Team | Fabian Coulthard | Ford Falcon FG/X | 0:54.8016 SS | 00.2286 |
| 6 | Red Bull Holden Racing Aust | Jamie Whincup | Holden Commodore VF | 0:54.8022 SS | 00.2292 |
| 7 | MEGA Racing | Jason Bright | Ford Falcon FG/X | 0:54.8636 SS | 00.2906 |
| 8 | TEKNO Woodstock Racing | Will Davison | Holden Commodore VF | 0:55.0063 SS | 00.4333 |
| 9 | Sengled Racing | Rick Kelly | Nissan Altima | 0:55.0121 SS | 00.4391 |
| 10 | Erebus Penrite Racing | David Reynolds | Holden Commodore VF | 0:55.0274 SS | 00.4544 |
| 11 | BIANTE 1:1 | Nick Percat | Holden Commodore VF | 0:55.0839 SS | 00.5109 |
| 12 | Mobil 1 HSV Racing | Scott Pye | Holden Commodore VF | 0:55.0998 SS | 00.5268 |
| 13 | Preston Hire Racing | Lee Holdsworth | Holden Commodore VF | 0:55.1500 SS | 00.5770 |
| 14 | Monster Energy Racing | Cameron Waters | Ford Falcon FG/X | 0:55.1713 SS | 00.5983 |
| 15 | Wilson Security Racing GRM | James Moffat | Holden Commodore VF | 0:55.1883 SS | 00.6153 |
| 16 | Wilson Security Racing GRM | Garth Tander | Holden Commodore VF | 0:55.2179 SS | 00.6449 |
| 17 | Nissan Motorsport | Michael Caruso | Nissan Altima | 0:55.2546 SS | 00.6816 |
| 18 | TeamVortex | Craig Lowndes | Holden Commodore VF | 0:55.2802 SS | 00.7072 |
| 19 | Freightliner Racing | Tim Slade | Holden Commodore VF | 0:55.2932 SS | 00.7202 |
| 20 | Mobil 1 HSV Racing | James Courtney | Holden Commodore VF | 0:55.3239 SS | 00.7509 |
| 21 | carsales Racing | Todd Kelly | Nissan Altima | 0:55.4050 SS | 00.8320 |
| 22 | Team Harvey Norman | Simona De Silvestro | Nissan Altima | 0:55.4652 SS | 00.8922 |
| 23 | Lucas Dumbrell Motorsport | Alex Rullo | Holden Commodore VF | 0:55.6209 SS | 01.0479 |
| 24 | Team CoolDrive | Tim Blanchard | Holden Commodore VF | 0:55.6302 SS | 01.0572 |
| 25 | Erebus GB Galvanizing Racing | Dale Wood | Holden Commodore VF | 0:55.6917 SS | 01.1187 |
| 26 | Repair Management Aust Racing | Matthew Brabham | Holden Commodore VF | 0:56.6186 SS | 02.0456 |