McLaughlin: Double win ideal for title hopes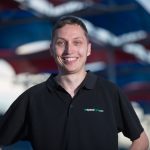 Scott McLaughlin believes his championship hopes are back on track after an impressive double victory at the Perth Super Sprint.
The DJR Team Penske driver has closed to within 31 points of his team-mate Fabian Coulthard in the championship standings having been 97 points adrift at the start of the weekend.
Climbing to fourth in rankings, McLaughlin was glad to haul himself back into contention having been unable to convert strong pace into victories before this weekend's trip to Barbagallo Raceway.
"I said, my goal is to take points off the guys in the top four places and you know that is what we did so yeah absolutely it has got things nicely back into reachable stuff again," said McLaughlin.
"Being 100 points back was getting a little bit annoying in some ways, obviously these guys aren't going to be down the back too often or whatever, they are always going to be there.
"We need to make sure we are there as well all the time taking as many points off them as possibly, I think this weekend was ideal for me.
The New Zealander's performances also arrived in front of Penske boss Roger Penske.
"Absolutely, there is obviously pressure with the big dog is in town.
"At the end of the day it is just fantastic for all the boys as well to have a chance to show what they have got in front of the big boss, they really get pumped up about it."
While the 23-year-old enjoyed a dominant weekend, McLaughlin says he is relishing the challenge against Triple Eight and Prodrive.
"I think it is great for the sport, we have three big teams going at it," he added.
"It is exciting, qualifying is exciting, you don't know who is going to be on pole.
"It is awesome. For the sport, the fans, I hope everyone enjoys it."
Six-time champion Jamie Whincup, who finished third in Race 8, echoed McLaughlin's thoughts on the title battle.
"How good is it? We are all up there battling it out, no doubt, the other crews will throw it in the mix," added Whincup.
"All the questions today and yesterday have really talked or pointing towards doom and gloom. That is not the case, that is not the case at all.
"Two podiums here is a great result for us, we are happy, Gizzie (Shane van Gisbergen) was just a couple of spots back, and we are second and third in the championship and hanging in there.
"There is a lot of water to run under the bridge before Newcastle (final round)."
The Virgin Australia Supercars Championship reconvenes at Winton from May 19-21.