Amputee British F4 racer eyes racing comeback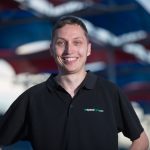 British Formula 4 driver Billy Monger has set his sights on making a racing return despite having both of his lower limbs amputated following a horrific crash last month.
The 18-year-old driver lost both his legs after a collision with the rear of Patrik Pasma's car during the second round of the British Formula 4 Championship at Donington Park.
Monger, who turned 18 this week, has spent three weeks in hospital where he has since undergone several surgeries, including the amputation of his left leg below the knee and his right leg, higher up the thigh.
Despite the life changing injuries, Monger is already focussing on making a comeback.
"All the support just makes me more determined to get back in the car and get racing again. That's the goal," Monger told the Press Association.
Monger's tragic story saw the global motorsport community come together with more than £800,000 ($1,399,000 AUD) being raised to help the teenager.
The fund saw several high profile drivers make contributions including 2009 Formula 1 world champion Jenson Button, Red Bull Racing's Max Verstappen and Supercars' Will Davison.
Monger admits the support has been overwhelming since his crash.
"It was weird, seeing them giving their support because they're obviously people you want to, you aim to be like them, at the top of the sport. That was cool," he added.
The CAMS Jayco Australian Formula 4 Championship is showing it support for Monger by running special stickers on its cars at Barbagallo Raceway this weekend.