Triple Eight calling for qualifying disqualifications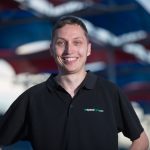 Triple Eight team manager Mark Dutton is calling for officials to hand out disqualifications following a controversial incident in qualifying.
Reigning champion Shane Van Gisbergen and Nissan Motorsport's Michael Caruso was forced to take evasive action when the pair came across the slow moving Nissans of Rick Kelly, Todd Kelly and Simona de Silvestro at the final corner.
The trio of cars were on the racing line while Caruso and van Gisbergen were on flying laps in the 15 minute qualifying session at Barbagallo Raceway.
Caruso was able to pull his car up while van Gisbergen narrowly avoided a huge crash by diving onto the grass and into the Turn 7 gravel trap.
The Kiwi was able to recover to fourth in the session.
Stewards confirmed the incident would be investigated after qualifying, although Dutton believes the matter is serious enough to warrant disqualifications.
Todd Kelly ended up in 10th ahead of de Silvestro (14th) and Rick Kelly in 15th spot.
"Unfortunately three of the Nissan cars – they started with blocking their own car, it is not standard blocking (either), it was actually very, very dangerous," said Dutton.
"There is a recommended go point, which they totally ignored, unfortunately this year it is recommended, not mandated. But, it is quite stupid.
"It shouldn't be a couple of grid positions they (are) penalised, they should be disqualified from qualifying.
"It is that big of deal, there were almost cars written off there.
"It is up to the officials now, it is there job, they are investigating, it. Even before we asked them to investigate it it was quite obvious. They are investigating that and we will just carry on with our job and get ready for the race."
UPDATE: Stewards have elected to conclude the investigation after Race 7, which will see the grid unchanged.
Race 7 is scheduled to start from 1445 local time.