McLaughlin sets record pace in final practice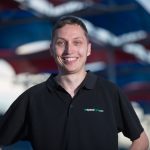 Scott McLaughlin lowered the Barbagallo Raceway Supercars benchmark once again to top the final practice session at the Perth Super Sprint.
The Kiwi stopped the clock with a 54.68s to surpass the previous fastest ever lap at the venue set by Shane van Gisbergen in Friday's second practice.
McLaughlin focussed on long runs earlier in the session before completing a qualifying simulation in the final moments of the 45 minute session.
"The car was a lot better than yesterday and we got our phasing right with the new tyre," said McLaughlin.
"I learnt a lot with Fabs (Fabian Coulthard) next to me so thanks to him, but we have two strong cars heading to qualifying that is for sure."
Mark Winterbottom bounced back from an eventful session to end up second just 0.10s adrift of the #17 DJR Team Penske Falcon.
Winterbottom suffered a left rear broken suspension arm midway through the hit out.
"We were trying to do race runs again, because you put the tyre on and just go one and a half seconds quicker it just makes a massive difference," said Winterbottom.
"We tried to focus on the race run, had a set back there mid-session, then at the end tried to go back to a quali car.
"It is pretty close, we can do it comfortably, just a little bit of understeer in the middle of the corner is costing us time.
"We have strengths which is nice, just have to tune up the weaknesses and not lose too much of the strengths that we have got, pretty happy but a little bit of speed to come hopefully."
A flurry of fast times saw Cameron Waters climb to third ahead of championship leader Fabian Coulthard.
Chaz Mostert was fifth fastest but was involved in an incident towards the end of the session.
The Supercheap Auto racer was forced to brake hard behind James Moffat, who was warming up his tyres on the back straight.
As a result, a fast approaching Jamie Whincup had to take evasive action to avoid car #55.
The Red Bull HRT driver was top briefly but his time was taken away for exceeding track limits.
"It is so hard, watching in front of you, the car in front of you weaving, and trying to start a lap as well," said Mostert.
"I can't look at both spots, can't look in your mirror and you can't look ahead of you as well.
"I just got choked up with another car in front and yeah didn't even see Jamie coming that quick, trying to focus on what is going on in front of me. (As a qualifying car) it is pretty ugly at the moment, we have a bit of work to do."
Mobil 1 HSV Racing's James Courtney was sixth ahead of Jason Bright (Prodrive), Rick Kelly (Nissan Motorsport), Lee Holdsworth (Preston Hire Racing) and Garth Tander (Garry Rogers Motorsport), who rounded out the top 10.
Triple Eight appeared to struggle for outright pace with van Gisbergen 22nd, Lowndes 24th and Whincup 25th.
The trio finished behind the Lucas Dumbrell Motorsport rookie Alex Rullo.
Supercars debutant Matthew Brabham, who continues to impress on his championship debut slotted into 23rd position just 2.2 seconds.
Meanwhile, Brad Jones Racing's Tim Slade was forced to miss the majority of the session after suffering an engine failure.
His team face a race against time to fit a new engine in the break before qualifying this afternoon.
"We have got an engine drama," said Slade.
"I think its terminal so that is us for this session. Hopefully we can get it fixed for qualifying."
The Supercars will return for a 15 minute qualifying session at 1155, before Race 7 at 1445.
Result: Virgin Australia Supercars Championship Perth Super Sprint Practice 3
| | | | | | |
| --- | --- | --- | --- | --- | --- |
| 1 | Shell V-Power Racing Team | Scott McLaughlin | Ford Falcon FG/X | 0:54.6893RSS | |
| 2 | The Bottle-O Racing Team | Mark Winterbottom | Ford Falcon FG/X | 0:54.7923 SS | 00.1030 |
| 3 | Monster Energy Racing | Cameron Waters | Ford Falcon FG/X | 0:54.9430 SS | 00.2537 |
| 4 | Shell V-Power Racing Team | Fabian Coulthard | Ford Falcon FG/X | 0:55.0431 SS | 00.3538 |
| 5 | Supercheap Auto Racing | Chaz Mostert | Ford Falcon FG/X | 0:55.2861 SS | 00.5968 |
| 6 | Mobil 1 HSV Racing | James Courtney | Holden Commodore VF | 0:55.3002 SS | 00.6109 |
| 7 | MEGA Racing | Jason Bright | Ford Falcon FG/X | 0:55.3312 SS | 00.6419 |
| 8 | Sengled Racing | Rick Kelly | Nissan Altima | 0:55.3344 SS | 00.6451 |
| 9 | Preston Hire Racing | Lee Holdsworth | Holden Commodore VF | 0:55.3675 SS | 00.6782 |
| 10 | Wilson Security Racing GRM | Garth Tander | Holden Commodore VF | 0:55.3874 SS | 00.6981 |
| 11 | Mobil 1 HSV Racing | Scott Pye | Holden Commodore VF | 0:55.4597 SS | 00.7704 |
| 12 | Team CoolDrive | Tim Blanchard | Holden Commodore VF | 0:55.5519 SS | 00.8626 |
| 13 | carsales Racing | Todd Kelly | Nissan Altima | 0:55.6673 SS | 00.9780 |
| 14 | Wilson Security Racing GRM | James Moffat | Holden Commodore VF | 0:55.7318 SS | 01.0425 |
| 15 | Nissan Motorsport | Michael Caruso | Nissan Altima | 0:55.7780 SS | 01.0887 |
| 16 | TEKNO Woodstock Racing | Will Davison | Holden Commodore VF | 0:55.8221 SS | 01.1328 |
| 17 | Erebus Penrite Racing | David Reynolds | Holden Commodore VF | 0:55.9002 SS | 01.2109 |
| 18 | Erebus GB Galvanizing Racing | Dale Wood | Holden Commodore VF | 0:56.1215 SS | 01.4322 |
| 19 | Lucas Dumbrell Motorsport | Alex Rullo | Holden Commodore VF | 0:56.3078 SS | 01.6185 |
| 20 | Team Harvey Norman | Simona De Silvestro | Nissan Altima | 0:56.3639 SS | 01.6746 |
| 21 | BIANTE 1:1 | Nick Percat | Holden Commodore VF | 0:56.4443 SS | 01.7550 |
| 22 | Red Bull Holden Racing Aust | Shane Van Gisbergen | Holden Commodore VF | 0:56.4596 SS | 01.7703 |
| 23 | Repair Management Aust Racing | Matthew Brabham | Holden Commodore VF | 0:56.9438 SS | 02.2545 |
| 24 | TeamVortex | Craig Lowndes | Holden Commodore VF | 0:57.0609 SS | 02.3716 |
| 25 | Red Bull Holden Racing Aust | Jamie Whincup | Holden Commodore VF | 0:57.2328 SS | 02.5435 |
| 26 | Freightliner Racing | Tim Slade | Holden Commodore VF | 0:58.1070 SS | 03.4177 |