Coulthard heads DJRTP front row lockout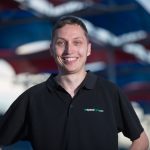 Fabian Coulthard set a blistering pace to claim the Armor All pole position as DJR Team Penske dominated qualifying at the Perth Super Sprint.
The championship leader lit up the timing screens on his second run in the 15 minute session with a record 54.66s effort which held up to claim pole for today's 120km heat.
Team-mate Scott McLaughlin backed up DJRTP's pace in front of the team's boss Roger Penske.
The #17 Falcon driver was just 0.03s adrift as the Queensland-based squad locked out the front row.
"It is fantastic, the guys have given both Scotty and I another quick car," said Coulthard.
"We tried to maximise as much as we could and get another front row lock out for Shell V-Power Racing.
"It is good to have Roger in town and hopefully we can celebrate this later on.
"It is a contributing factor of the tyre and how good our car is at the moment, it is a credit to everyone, they have given us quick cars and it is a pleasure to drive."
Red Bull HRT's Jamie Whincup was the best of the rest in third, albeit 0.3s shy of the two Shell backed Fords.
Shane Van Gisbergen managed to recover to fourth having narrowly avoided a crash in a controversial incident.
The reigning champion was forced to take evasive action on the back straight when he came across the quartet of Nissan on the entry to the final corner.
A slow moving Rick Kelly headed Todd Kelly and Simona de Silvestro on the racing line which then sparked a chain reaction.
Michael Caruso in the fourth Nissan was forced to pull up quickly which then forced van Gisbergen to take to the grass to miss the Altima.
He rejoined the track following an excursion into the gravel trap.
Stewards will investigate the incident after the session.
Chaz Mostert will head up the third row alongside team-mate Mark Winterbottom ahead of Will Davison (Tekno Autosports), Lee Holdsworth ( Preston Hire Racing), Craig Lowndes (Triple Eight), while Todd Kelly (Nissan Motorsport) completed the top 10.
Garth Tander just missed out of the top 10 in 11th, while Simona de Silvestro enjoyed her personal best qualifying in 14th, only 0.59s shy of the pace.
Tim Slade qualified 19th having returned to the track following his engine drama in final practice.
Mobil 1 HSV Racing's James Courtney struggled in 24th ahead of debutant Matthew Brabham, who managed to out-qualify Lucas Dumbrell Motorsport team-mate Alex Rullo.
The Supercars field will regroup for the opening heat of the weekend at 1445 local time (1645) AEST.
Results: Virgin Australia Supercars Championship – Perth Super Sprint, Qualifying for Race 7
| | | | | | |
| --- | --- | --- | --- | --- | --- |
| 1 | Shell V-Power Racing Team | Fabian Coulthard | Ford Falcon FG/X | 0:54.6667R | |
| 2 | Shell V-Power Racing Team | Scott McLaughlin | Ford Falcon FG/X | 0:54.7013 | 0:00.0346 |
| 3 | Red Bull Holden Racing Aust | Jamie Whincup | Holden Commodore VF | 0:55.0316 | 0:00.3649 |
| 4 | Red Bull Holden Racing Aust | Shane Van Gisbergen | Holden Commodore VF | 0:55.0522 | 0:00.3855 |
| 5 | Supercheap Auto Racing | Chaz Mostert | Ford Falcon FG/X | 0:55.0709 | 0:00.4042 |
| 6 | The Bottle-O Racing Team | Mark Winterbottom | Ford Falcon FG/X | 0:55.1130 | 0:00.4463 |
| 7 | TEKNO Woodstock Racing | Will Davison | Holden Commodore VF | 0:55.1244 | 0:00.4577 |
| 8 | Preston Hire Racing | Lee Holdsworth | Holden Commodore VF | 0:55.1480 | 0:00.4813 |
| 9 | TeamVortex | Craig Lowndes | Holden Commodore VF | 0:55.1557 | 0:00.4890 |
| 10 | carsales Racing | Todd Kelly | Nissan Altima | 0:55.1602 | 0:00.4935 |
| 11 | Wilson Security Racing GRM | Garth Tander | Holden Commodore VF | 0:55.1869 | 0:00.5202 |
| 12 | Erebus Penrite Racing | David Reynolds | Holden Commodore VF | 0:55.2333 | 0:00.5666 |
| 13 | Mobil 1 HSV Racing | Scott Pye | Holden Commodore VF | 0:55.2377 | 0:00.5710 |
| 14 | Team Harvey Norman | Simona De Silvestro | Nissan Altima | 0:55.2583 | 0:00.5916 |
| 15 | Sengled Racing | Rick Kelly | Nissan Altima | 0:55.2671 | 0:00.6004 |
| 16 | MEGA Racing | Jason Bright | Ford Falcon FG/X | 0:55.3295 | 0:00.6628 |
| 17 | Erebus GB Galvanizing Racing | Dale Wood | Holden Commodore VF | 0:55.3986 | 0:00.7319 |
| 18 | BIANTE 1:1 | Nick Percat | Holden Commodore VF | 0:55.4186 | 0:00.7519 |
| 19 | Freightliner Racing | Tim Slade | Holden Commodore VF | 0:55.4491 | 0:00.7824 |
| 20 | Nissan Motorsport | Michael Caruso | Nissan Altima | 0:55.4564 | 0:00.7897 |
| 21 | Wilson Security Racing GRM | James Moffat | Holden Commodore VF | 0:55.4661 | 0:00.7994 |
| 22 | Team CoolDrive | Tim Blanchard | Holden Commodore VF | 0:55.4713 | 0:00.8046 |
| 23 | Monster Energy Racing | Cameron Waters | Ford Falcon FG/X | 0:55.5238 | 0:00.8571 |
| 24 | Mobil 1 HSV Racing | James Courtney | Holden Commodore VF | 0:55.6510 | 0:00.9843 |
| 25 | Repair Management Aust Racing | Matthew Brabham | Holden Commodore VF | 0:56.1788 | 0:01.5121 |
| 26 | Lucas Dumbrell Motorsport | Alex Rullo | Holden Commodore VF | 0:56.1832 | 0:01.5165 |