Kelly to embark on Bass Strait jet ski challenge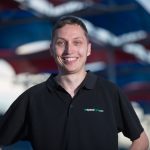 Todd Kelly is set to swap his Nissan Altima Supercar for a jet ski as he plans to undertake a unique 1000km challenge next week.
The Nissan Motorsports Supercars team co-owner and driver plans to cross the Bass Strait to Tasmania and return within four days, beginning on Tuesday.
Kelly will complete alongside longtime friends Robbie O'Brien and Bryan Hands.
The journey, which has been 12 months in the planning, aims to raise funds for MS Society which helps support sufferers from Multiple Sclerosis.
Crossing the treacherous 500km stretch of water is an exercise in weather watching.
The trio has waited patiently for a four-day window of calm conditions to set off on their journey, and it appears their best chance will be from this Tuesday.
Following this weekend's Perth Super Sprint, Kelly will complete his final preparations before heading to Port Welshpool in South Gippsland, Victoria.
"We have all done things together with different machinery, but none of us had been out in the ocean," said Kelly.
"But since coming up with the idea, we've undertaken some very serious training: from radio courses, better understanding the marine side of things, and even spending 24 hours on a fishing boat to better understand the environment.
"I'm still nervous, given it's a large journey, but I'm confident in our preparation.
"We came up with a few windows when the three of us could take four days off in our work to do it.
"As it turns out the first window starts on Tuesday, and we haven't completed all of our testing, so we've not been on the skis to test all the gear.
"But the opportunity to have two or three days of good weather is extremely rare. So we'll get back from Perth, have a few hours sleep, and then head to the workshop and get everything ready.
"We have some fuel hidden away on one of the islands that we dropped off a few months ago.
"Our plan is to get away as early as possible. We go past Hogan Island first up, then Deal Island – where we'll refuel and have a walk around – with the aim of getting to Flinders Island as an absolute minimum on the first day.
"It is possible to get to Tasmania on the first day, so if we can make enough ground to be able to do that we'll be in a good position for the return trip.
"The big one is trying to get to Flinders because there are beds for us there. So if we don't get to Flinders we'll be camping out in weather not too conducive to sleeping on the beach.
"Originally we were going to sneak off and do it, but with the amount of partners that have come on board to assist us and make sure our journey is safe, we decided that it'd be crazy not to do this for a good cause.
"That's when we first spoke to the MS Society to try and raise some money. So it's even better to be able to start this trip knowing that it's for a good cause."
Click here to donate to the campaign.