Bend Motorsport Park on schedule for 2018 opening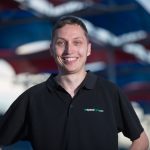 The construction of Australia's first new permanent circuit for almost two decades is on schedule to open next year having reached six months into its build plan.
The Bend Motorsport Park, situated in Tailem Bend, South Australia has made steady progress since construction of the new state-of-the-art $100 million facility began in December last year.
Privately funded by the Peregrine Corporation, the FIA grade 2 circuit will feature four different layouts and is thought to be the second longest circuit behind the infamous Nurburgring Nordschleife.
It will also feature a 50 room hotel complex and facilities to host rallycross.
Currently the circuit is still undergoing the earthworks segment of its build with the track and infrastructure set to be formed in the second half of this year.
"We're on schedule, barring any unforeseen weather that may occur, but everything's on schedule at the moment," Paul Trengove, motorsport development operations manager told Speedcafe.com.
"From an operational side it's probably us now that are getting the pressure to make sure we keep up so that once it is constructed that we're ready to move in and start operating.
"But from a construction point of view, the good news is that it's all on track at the moment.
"We started building in December with I guess the first six months' focus on the earthwork side of things as compared to the motor racing circuit itself, and prepare the site for the pit building, and we were just about to complete that – probably end of May that will be completed.
"We'll have the kerbing and barrier installation happening throughout June, July, August with around September being the date we'll lay the bitumen, and once it's laid you wait the eight to 12 weeks for it to cure.
"Hopefully by November it'll be ready to at least have a very, very soft operation, it probably won't officially open until January but certainly for us to put some testing in place.
"We're sort of looking at the end of the year but the pit building itself will probably mostly be complete by January, but the hotel section will probably just take a little bit longer so that'll probably be there about March."
While the the build works are well underway, the circuit is now ramping up its recruitment drive as it looks to ready itself for when the venue  become operational next year.
The facility is casting its net all over Australia as it it looks to attract personnel for a wide range of roles ranging from commercial to operational staff.
"We've only recently just gone through our activity plan between now and when we open and we're not that far away," Trengove added.
"It's only sort of 30-plus weeks away and when we start the work that needs to be done to be ready, we are very under-resourced at the moment, so now's the time that we're really starting to bump up that recruitment process.
"Currently the operation team is sitting on about three or four staff members; by the time we open we'll sort of be up to around 35, 40 members, so quite a lot of opportunity."
Trengove says discussions to secure a plethora of national and international race events remain ongoing.
Aims to feature on the 2018 Supercars calendar continue to be in motion although a date is yet to be agreed.
"They (Supercars) tend not to announce it (calendar) until three-quarters of the way through the year so we expect that," he added.
"When we are on that 2018 calendar it's a matter of where we fit.
"Obviously with the Clipsal 500 being earlier in the year, we're looking to focus perhaps towards the other side of the year, but at this stage we haven't got a date sorted with (Supercars) yet, but once we do we'll certainly have a big announcement."