Brabham receives green light for Supercars debut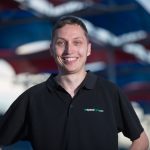 Matthew Brabham will make his Supercars debut at this weekend's Perth Super Sprint after gaining clearance from CAMS.
The third generation racer has been issued a superlicence exemption by CAMS allowing him to compete at Barbagallo Raceway for Lucas Dumbrell Motorsport.
Brabham emerged as a last minute replacement for the #3 entry for Taz Douglas, who is unable to attend this weekend's meeting, having previously piloted the Commodore on a round-by-round basis this year.
The 23-year-old grandson of the late triple Formula 1 world champion Sir Jack Brabham was already at Barbagallo Raceway to compete in the Stadium Super Trucks, which supports the fourth round of the Virgin Australia Supercars Championship.
This weekend will present a new challenge for Brabham having never competed in the category before.
Brabham has spent the majority of his career racing in single-seaters with the highlight being a run in the 100th running of the Indianapolis 500 with Pirtek Team Murray last year.
Former Supercars full-timer Paul Morris will be on hand to assist with Brabham's transition.
"Obviously this has all come together at the last minute and has been a bit of a surprise, but we will give it the best shot we can," said Brabham.
"When Phil (Munday) rang to see if I was interested it was obviously from way left field, but exciting at the same time. Phil has a track record of supporting young drivers in the sport and this is just another example and I am looking forward to rewarding his faith in me.
"We had a test lined-up with one of the front-running Supercar teams last year, but unfortunately time beat us and we never got it done.
"I am under no illusions about the expectations this weekend, but if I can get a bit of exposure for LDM and get a few laps under my belt in a Supercar then it works for all the stakeholders.
"I will be out there with plenty of guys I used to race karts against so it should be cool.
"When the deal was presented to me, "Crusher" (PTM owner Brett Murray) agreed it was a good opportunity, but he was keen to have Paul (Morris) involved as much as possible to accelerate my learning curve.
"Everyone is on the same page and now we need to go out and have some fun."
Despite his inexperience, LDM boss Lucas Dumbrell is confident the American-Australian will slot into the team without issue.
"I'm pretty pumped up to have Matt join the team," Dumbrell told Speedcafe.com.
"I think he will do a good job. He has driven a lot of things but like any guys who have raced open wheel it takes a bit of time to get used to a tin top, but he will be fine.
"The track is pretty challenging so he will get to experience of a Supercar on good tyres and when the tyres are losing grip due to the degradation at this circuit.
"I think he is pretty excited by the opportunity and as much as he is looking forward to it, I'm looking forward to seeing another young guy in one of my cars.
"I hope he does every lap of every race and gets as much experience as he can and there is no reason why he couldn't do enduros later in the year."
Brabham will take the wheel of #3 Commodore for the first time in Friday's opening practice at midday local time.
VIDEO: Brabham speaks about running in a Supercar in Perth