BJR reveals 'gender equality' livery for Percat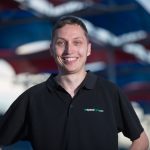 Brad Jones Racing's Nick Percat will sport a 'Supporting Equality' livery at this weekend's Perth Super Sprint.
In conjunction with Holden, the South Australian's Commodore will run a striking blue and pink colour scheme in support of gender equality in all its forms, according to the team.
The livery follows a bold "Supporting Equality' paint job utilised on the #8 entry at the non championship Australian Grand Prix round in March.
BJR has operated a rolling sponsorship model on Percat's car this season.
Alongside the special livery, nationwide fitness giant Plus Fitness will carry branding on the front and rear quarters of the chassis.
"It's a simple message of supporting gender equality," said team boss Brad Jones.
"Whilst motorsport is a male dominated sport, we need to be open and inclusive to everyone."
Holden's General Manager – Brand, Media & Sponsorships, Emma Pinwill, added "At Holden we support equality in all its forms and we're delighted to support Brad Jones Racing in this initiative."
Percat heads to Perth's Barbagallo Raceway having slid to 21st in the championship standings following a challenging round at Phillip Island.
"We've had a pretty interesting start to the season," said Percat.
"We've got a few rounds coming up that BJR are traditionally strong at so we'll be looking to qualify further up the front and keep out of the trouble that we've unfortunately been caught up in over the last few rounds."
The Perth Super Sprint begins on Friday with opening practice scheduled for midday local time.