SuperUtes shelved until 2018, V8 Utes to continue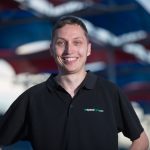 Supercars has confirmed its new SuperUtes series has been delayed until 2018 with the existing V8 Utes platform to continue for another season.
The new production-based turbo diesel dual cab Ute class to take over from the V8 Ford/Holden platform has been shelved until next year, primarily due to delays in the development of prototype machinery.
Announced at the Gold Coast 600 last October, the series set itself the ambitious target of being ready to launch at the Townsville 400 in July this year.
However, an underestimation of the work required to homologate SuperUtes of varying manufacturers, coupled with componentry supply issues and a lack of confidence among competitors has forced the decision.
As a result, the V8 Utes will contest a six round series with rounds at Winton, Townsville, Ipswich, Bathurst, Gold Coast and Newcastle, while Supercars works to ensure the concept is ready for 2018.
Former Supercars team owner Ross Stone has also been enlisted to help deliver the category following the recent upheaval that saw Simon McNamara, who was set to head up the SuperUtes, replaced after taking up a commercial role at Australian GT.
Supercars managing director Matt Braid admits it was ambitious to launch the series this year, while having limited information for prospective competitors.
A Ford Ranger, Mazda BT50, Mitsubishi Triton and the Toyota Hilux have been homologated, with a Holden Colorado and Isuzu D-Max set to be completed in the coming months.
"I would have loved to have seen them on the grid (at Townsville) with a full field, but equally too you don't want to do that for the sake of it," Braid told Speedcafe.com.
"We said at the time it was very ambitious and we said it was going to be a challenge, and it's proven to be that and maybe a little bit more in some aspects.
"More time is required to fully develop and test the cars and to refine the specification of the race kits. We also want to give competitors the time necessary build their cars.
"We wanted to take our time and make sure that we've got a proper plan in place to be able to communicate that properly with the competitors and say, 'This is the definitive way we're going.'
"I think we had too many questions and not enough answers. From a competitor group point of view, certainly we want to make sure now that we can give them the confidence and information that's actually going to allow them to get themselves ready."
Category advisor Stone is confident SuperUtes will be ready for 2018 with progress well underway since taking up the role to help guide the category.
"I've looked into it a lot and how to build them and run them and the costing and everything else, but now I'm involved in trying to make sure everything resets to go again," Stone told Speedcafe.com.
"I guess we have to lay out how to build it, the costs, and everything else, and then it will be up to the individual to see if it balances or not, but with John Casey and I working closely together, I think it's all starting to stack up pretty good."
The concept continues to be divisive among V8 Utes competitors with three-time series champion Ryal Harris adamant organisers have made the wrong call regarding the format of the new series.
The Utes regular believes a concept designed by the category's former owners Spherix, which kept the V8 engine was more fitting.
"I truly believe they should have stuck with the chassis style concept that V8 Utes first came up with, with the V8 engine in them with just the panels and bodywork on over the top of the chassis," Harris told Speedcafe.com.
Although frustrated by the delays, the Sieders Racing Team remains committed to SuperUtes having been one of the first to get behind the new format.
The Sydney-based operation has been involved in the development of the category since its inception by assisting with the development of the SuperUte.
"As Sieders Racing Team and as team owner, there was a little bit of frustration because we were pretty ready to go and we had some stuff locked away to make it all work," team boss Luke Sieders told Speedcafe.com.
"On the same hand I think it's good that they have taken the time to do it and do it right because at the end of the day if we did rush it, it's going to possibly cause issues with potential sponsors and manufacturers and it's not the right way to go about it.
"There's probably been a couple of things (that have forced the delays)
"They (Supercars) wanted to try to keep the cars as common as possible, so that takes some time to do all the analysis of all the different makes so that we're not having two vastly different vehicles.
"The second thing is developing diesels engines with MoTec, that's taken some time as well."
The 2017 V8 Utes Series season opener will be held at the Winton Super Sprint from May 19-21.