Front-row lockout for Ferrari in Sochi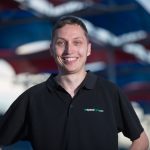 Sebastian Vettel edged team-mate Kimi Raikkonen to pole position as a dominant Ferrari locked out the front row in qualifying for the Russian Grand Prix.
The Maranello team backed up its impressive practice pace resulting in a head-to-head battle for pole between its two drivers.
Kimi Raikkonen pumped in an early benchmark which stood for the majority of Q3, but the Finn was unable to improve on his final run.
Vettel on the other hand produced a personal best 1:34.194s with his final effort, which was enough to snatch pole position by 0.059s.
The effort produced the first front row lockout for Ferrari since the French Grand Prix in 2008.
"I think the car was phenomenal this afternoon and it was really a pleasure to take a seat and go around with low fuel trying to push it to the limit," said Vettel.
"It is a team effort and it is great to have both cars on the front row, but this is only part of the job the main part is tomorrow.
"It is a very good result and I'm sure everyone is happy and proud."
Mercedes were unable to match the speed of the Scuderia as Valtteri Bottas emerged in third, while team-mate Lewis Hamilton was forced to settle for fourth, more than half a second shy of Vettel.
Red Bull's Daniel Ricciardo proved the best of the rest in fifth ahead of Williams' Felipe Massa and Max Verstappen in the sister Red Bull.
"To be honest I would rather look at the position rather than the time," said Ricciardo.
"We knew fifth was the best we could have done in qualifying."
Renault's Nico Hulkenberg continued to impress in eighth in front of the Force Indias of Sergio Perez and Estaban Ocon, who rounded out he top 10.
Toro Rosso's Carlos Sainz narrowly missed out on a place in Q3 in 11th, but the Spaniard will drop to 14th courtesy of a three-place grid penalty for causing a collision at the Bahrain Grand Prix.
As a result, Williams' Lance Stroll will line up in 11th spot ahead Daniil Kvyat (Toro Rosso), Kevin Magnussen (Haas F1) with McLaren's Fernando Alonso in 15th spot.
Renault's Jolyon Palmer brought out the yellow flags when he found the wall at Turn 4 at the end of Q1.
The Brit clipped the kerb on the entry to the corner which pitched him towards the barriers.
Palmer will start from 16th position ahead of Sauber's Pascal Wehrlein also suffered a spin towards the end of the opening segment.
Team-mate Marcus Ericsson and Haas F1's Romain Grosjean both failed to progress for Q1, while McLaren's Stoffel Vandoorne will start from the back of the grid after incurring a 15-place penalty for an engine change.
Result: Formula 1 Russian Grand Prix Qualifying 
| Position | Driver | Car | Gap |
| --- | --- | --- | --- |
| 1 | Sebastian Vettel | Ferrari | 1:33.194s |
| 2 | Kimi Raikkonen | Ferrari | 0.059s |
| 3 | Valtteri Bottas | Mercedes | 0.095s |
| 4 | Lewis Hamilton | Mercedes | 0.573s |
| 5 | Daniel Ricciardo | Red Bull/Renault | 1.711s |
| 6 | Felipe Massa | Williams/Mercedes | 1.916s |
| 7 | Max Verstappen | Red Bull/Renault | 1.967s |
| 8 | Nico Hulkenberg | Renault | 2.091s |
| 9 | Sergio Perez | Force India/Mercedes | 2.143s |
| 10 | Esteban Ocon | Force India/Mercedes | 2.236s |
| 11 | Lance Stroll | Williams/Mercedes | 2.770s |
| 12 | Daniil Kvyat | Toro Rosso/Renault | 2.774s |
| 13 | Kevin Magnussen | Haas/Ferrari | 2.823s |
| 14 | Carlos Sainz | Toro Rosso/Renault | 2.754s 3 place penalty |
| 15 | Fernando Alonso | McLaren/Honda | 3.466s |
| 16 | Jolyon Palmer | Renault | 3.268s |
| 17 | Pascal Wehrlein | Sauber/Ferrari | 4.138s |
| 18 | Marcus Ericsson | Sauber/Ferrari | 4.313s |
| 19 | Romain Grosjean | Haas/Ferrari | 4.426s |
| 20 | Stoffel Vandoorne | McLaren/Honda | 3.876s 15 place penalty |