Phil Brock to make racing return at Ipswich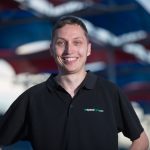 Phil Brock will make his competitive racing return next weekend when he lines up in the Queensland Touring Car Championship at Ipswich.
The younger brother of the late Peter Brock is set to pilot an LH Torana, owned by Murray Kent, in the QTCC, which will support the Ipswich Festival of Cars meeting at Queensland Raceway.
Brock witnessed the series when he attended the Lakeside Tribute in March.
Having enjoyed the series, a deal has now been brokered for Brock to compete in what will be his debut at Queensland Raceway.
His last race came in an HQ Holden at Winton last year.
"I have never run at Ipswich before so that is one of the reasons why I'm happy to do this," Brock told Speedcafe.com.
"I was invited up to the Lakeside Tribute and I was watching the racing and I was watching good clean racing which is something I have seen in the last 10 years.
"It was great racing and nobody touched each other and the opportunity came up to run at Ipswich so it thought 'why not?'
"I really enjoyed the atmosphere at the circuit and it was a bit like how it used to be in the 1970s.
"I'm really looking forward to it, it is just a one-off drive."
Brock is set to compete in four races throughout the May 6-7 weekend.