Former Schumacher Formula 1 car up for sale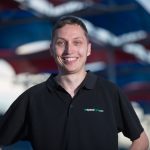 A Benetton Formula 1 car once raced by seven-time Formula 1 world champion Michael Schumacher is up for sale.
The 1991 Benetton B191 is listed for auction by renowned auctioneer Bonhams at the Spa Classic historic meeting next month.
The John Barnard designed 3.5-litre Cosworth Ford V8 powered racer made its debut at the 1991 San Marino Grand Prix in the hands of Roberto Moreno, before being handed to three-time world champion Nelson Piquet.
Piquet scored a memorable win in the car at the Canadian Grand Prix having started from eighth on the grid.
At 22-years-old Schumacher replaced Moreno for the final five races of the season and was handed the chassis for the Japanese and Australian Grands Prix.
The German retired from an engine failure at Suzuka before an accident sidelined him from the Australian Grand Prix at Adelaide.
The car has since been restored with its engine, gearbox, with all of its safety equipment undergoing an overhaul.
Once a museum piece, the car is in running order is expected to reach $1,100,000 – $1,400,000 AUD at auction.