De Silvestro ready to be more aggressive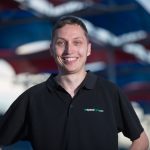 Simona de Silvestro feels ready to be more aggressive on car set-up following the rookie's most impressive showing to date at the WD-40 Phillip Island 500.
The Swiss recorded personal best results of 13th in both 250km races in the #78 Harvey Norman-backed Nissan Altima at the Victorian circuit.
De Silvestro out-qualified a group of more experienced rivals while showcasing her growing Supercars race craft in what was a challenging Phillip Island debut.
A fifth place finish would have been on the cards in Saturday's eventful heat had she avoided a pit lane infringement in the closing stages.
The 28-year-old former IndyCar driver's strong start to her maiden full-time season in Supercars has seen her climb to 19th in the standings.
The feat has marked her opening three rounds in the series as the most successful by an international rookie in the category, ahead of Alex Premat, Max Wilson, Maro Engel and Robert Dahlgren.
De Silvestro has been running conservative set-ups on her Altima as she continues to adapt to the series, but the Nissan pilot now feels accomplished enough to push the envelope and unlock more potential in the car.
"Car wise I think we had a bit of a breakthrough moment at Phillip Island, the car is really talking to me now," de Silvestro told Speedcafe.com.
"We were quite conservative on that side and that is something we can be a little more aggressive on because I'm starting to feel pretty comfortable in the car, and I'm working quite well with my engineer.
"It is pretty exciting.
"I think we are working really well together and he is letting me try stuff.
"We are not really boxed in on the #78 car. We can try a few different things which are helping me because I'm starting to get the feel I want in the car and that is showing in the lap time.
"It is definitely a big plus. We did out-qualify a few people and tenth more could have put us 16th and after three rounds I think that is pretty good.
"If we look at the first race (Clipsal 500) we were quite far off in qualifying and everything was quite new.
"But I felt at Phillip Island I was able to extract a lot out of the car. I'm still missing a little bit but it is just a few tenths to find in the little things. It's quite positive for the whole team."
Both races at Phillip Island saw de Silvestro involved in competitive on track battles, yielding encouraging results, while boosting confidence levels.
"We are really starting to get to grips with the races," she added.
"There are some things that are missing that I have to work on and get on top of. I think everything is moving in the right direction.
"The biggest thing is I'm enjoying it so that brings out bit of confidence because I'm having fun out there.
"The results at the end were quite good and on Saturday we stayed out of trouble.
"We could've finished fifth if we hadn't got that penalty.
"I think that is quite key to it, not getting into trouble and doing the laps. I think it is starting to pay off and we can start being a bit more aggressive now and move forward."
De Silvestro will continue her maiden Supercars season when the series heads to Perth's Barbagallo Raceway from May 5-7.