T8 pushing for paddle shift gearboxes in Supercars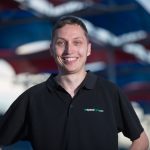 Triple Eight is pushing for an introduction of paddle shift gearboxes as part of a Supercars cockpit overhaul to further improve driver safety.
The Brisbane-based squad believes the removal of the gear lever in favour of paddle shift transmission will reduce the risk of leg injuries and help drivers extricate from cars quicker in emergency situations.
The idea has emerged while the squad assesses its options following the category's move to make cockpit leg protection mandatory from the Wilson Security Sandown 500 in September.
Team manager Mark Dutton says the cockpit area would benefit from a rework incorporating paddle shift transmission, which would clear any obstructions in the event of a crash.
He also claims a switch to paddle shift would also increase the shelf life of Supercars' control transaxles.
Leg injuries were highlighted when Chaz Mostert suffered broken femur in a crash at Bathurst in 2015, while Rick Kelly sustained a muscle tear in the 12-car pile up at Symmons Plains, earlier this month.
"I really think safety wise it (paddle shift) would be good," Dutton told Speedcafe.com.
"Most definitely this is something we would like to put forward as a option for the future.
"I'm always mindful that we don't wrap the driver up too much in there and make it too hard to get out.
"A broken leg from a massive shunt is bad but it is nothing compared to what it could be.
"If a car was to ever rollover, or at risk of catching fire, you want to make sure it is not worse to get out in an emergency.
"Also by clearing away a lot of the clutter in the cockpit of a car, if a driver does needs to get out of the passenger side in a worst case scenario, there is a lot less things in the way. That to me is the way we can move forward.
"Our transaxle supplier Albins have said they would increase the service intervals and the warranty on them if we had automated shift so you would see cost saving and safety.
"It might not be a short term thing that can happen but it is one of those things where we should move with the times (as a category).
"It would be a lot of work for us as we have anti-roll bars there in the cockpit and brake bias adjusters, so out of all the teams we would have the most work, but I think it would be worth it to make the car safer."
Triple Eight has experience of paddle shift gearboxes when it created a special Holden Sandman project from an ex-Jamie Whincup Supercars chassis in 2014.
Several motorsport categories use the system with a range of on the shelf products available should Supercars wish to adopt a transmission change.
"It (the Sandman paddle shift) is not as refined as a race package and it is not a light weight as you could do it," Dutton said of the system used in the Sandman.
"It works and there are so many categories around the world that do paddle shift, so there are more and more off the shelf systems that people make.
"It won't happen this year but I hope it happens really soon."
Triple Eight currently runs its own form of leg protection around the gear lever and is keen to develop its own concept once it receives the official leg protection device specifications from Supercars.
It is understood the design developed by DJR Team Penske does not fit the Triple Eight cockpit.
"We haven't seen the official specs for what the leg protection device has to be," he added.
"Generally we like to make our own things, not because we think we can do a better job, but to make sure it fits our cars perfectly.
"We are interested in moving forward and doing our own version but we don't have what the requirements need to be."