Investigation launched into Monger F4 crash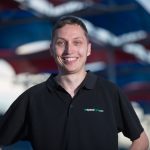 An investigation has been launched into the horror crash which saw British Formula 4 Championship driver Billy Monger lose both his lower legs.
British motor racing governing body, the Motor Sports Association (MSA) will head up the investigation into the incident at Donington Park earlier this month with support from the FIA.
Monger sustained life changing injuries after a collision with the rear of Patrik Pasma's car during a race on April 16.
"The Motor Sports Association is investigating the F4 British Championship incident at Donington Park that left Billy Monger with life-changing injuries," read a statement from the MSA.
"This investigation is ongoing with the support of the world governing body for motorsport, the FIA.
"Until this investigation is concluded, there can be no further comment regarding the specifics of the incident.
"The thoughts of all at the MSA are with Billy and his family at this difficult time, and it has been incredible to see the extraordinary outpouring of support from the motorsport community."
Monger remains in hospital having undergone a series of surgeries following the crash.
A crowdfunding page set up to assist the teenager has since raised more £754,000 ($1,287,000 AUD).