F1 shelves Halo in favour of 'shield' safety concept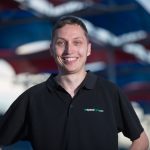 The Formula 1 Strategy Group has elected to ditch the Halo cockpit protection device in favour of developing the 'shield' concept for 2018.
F1 has been striving to improve cockpit safety following the deaths of IndyCar driver Justin Wilson and former Manor F1 pilot Jules Bianchi, with a device expected to be made mandatory from 2018.
The new 'shield' concept, which is understood to share characteristics with the rejected Red Bull developed aeroscreen device, was shown to drivers at the Chinese Grand Prix, and has now emerged as the leading contender.
Despite dividing the paddock, the Halo design had originally been the favoured design of the FIA having undergone extensive testing throughout last season.
However, following a meeting of the F1 Strategy Group and the F1 Commission in Paris a decision has been made to further develop the 'shield' concept.
"A number of more integrated solutions for additional frontal protection have been studied, and the decision has been taken to give priority to the transparent 'Shield' family of systems," read statement from the FIA.
"The FIA aims to carry out track tests of this system during this season in preparation for implementation in 2018."
The shield concept garnered mixed reviews from F1 drivers following a presentation at Shanghai.