Erebus aims to continue punching above its weight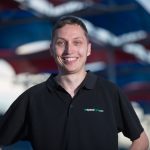 Erebus Motorsport team manager Barry Ryan has paid tribute to the hard work behind the scenes that has allowed the squad to challenge Supercars' powerhouse outfits.
The Melbourne team was once again able to compete with the championship's top teams by scoring two top 10 finishes at Phillip Island, headlined by a podium for David Reynolds on Sunday.
Reynolds' third place finish and Dale Wood's run to eighth in Race 6 came off the back of fifth place for the former Prodrive racer at Symmons Plains.
Unable to compete with the championship's top teams in regard to resources, Ryan believes the work ethic and teamwork shown by his small group of talented individuals is paying dividends.
"Everybody keeps saying that we are punching above our weight, we don't feel like it, but honestly we are as we are a newly developed team," Ryan told Speedcafe.com.
"It is a credit to our little bunch of people that we have put together.
"The biggest thing is the two drivers and their engineers are working together and everyone is working together.
"Dale (Wood) has really been helping.
"Even though it hasn't shown in the results, although he did get an eighth on Sunday, he deserves it because he is really good with his feedback.
"He has helped us more than everybody sees with our development."
Reynolds has pinpointed the appointment of former Walkinshaw engineer Alistair McVean as key part of the team's revival since its move from Mercedes to Holden Commodores.
"We have been working really, really hard, since Al joined, actually since we started the team at the start of last year," said Reynolds.
"We have had a massive learning curve last year and it has just gone from strength-to-strength.
"But we are still not there yet, we still have a lot of things we need to improve and areas we can improve on."
The 31-year-old also felt he had the pace to challenge for the win on Sunday if he'd chosen to defy team orders and push harder in the closing laps of Race 6.
Fearing a possible tyre failure, the team told Reynolds to back off for the final laps.
"They were trying to conserve me for the last 14 laps, I thought my car would have been fine," Reynolds added.
"I wish I had pushed on to try and catch the rest of them, I tried in the last little lap and didn't have a drama.
"I didn't blow one (a tyre) all weekend so I wished I had pushed on, I am dying wondering what could have been."
Erebus aims continue its run of form with updates to its Commodores for the next round at Perth's Barbagallo Raceway (May 5-7).
The parts arrived at Phillip Island but were unable to be fitted in time for the races.
"We have got plenty of things that we want to do," added Ryan.
"We were working until midnight on Friday trying to make the new parts work.
"The machine shop only just got them done in time and we didn't hit exactly want we want, but for Perth we will have another thing in our tool box to use."