Triple Eight admits fault for Race 6 tyre failures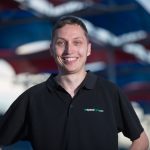 Triple Eight has admitted it made a misjudgement with its car set-up which ultimately resulted in tyre failures on each of its three cars in Race 6 at Phillip Island.
The squad managed to escape a tyre blowout strewn Race 5 unscathed while the majority of the field suffered failures of the newly constructed soft Dunlop tyre.
However, its Commodore entries for Jamie Whincup (right rear), Shane van Gisbergen (right rear) and Craig Lowndes (right front) all encountered punctures ruining any chances of victory.
The issues arose after Triple Eight team manager Mark Dutton had been bullish about the tyre situation claiming rival teams' failures were self inflicted.
The dramas in Race 5 saw Supercars increase the minimum tyre pressure from 17 psi to 19 psi, while a recommended camber setting was introduced to combat the problem.
Dutton held his hands up after the race admitting his team had made an error, which was further highlighted by longer stints on the tyres following a Lap 1 Safety Car.
"The Lap 1 Safety Car meant we had a set-up that was too aggressive, and we didn't respond to manage that as well as we could have," said Dutton.
"Obviously we should have been on the phone to the drivers telling them to drive slower than they were.
"We were victims of our own success, because we nailed that yesterday.
"It meant we didn't have to be over conservative today – which, when the Safety Car came out, we weren't on the right side for those specific conditions.
"Looking back, we should have been better with our communication to the driver.
It's getting the feedback off them, because there's also so much in how you drive the car.
"If you go out and slide the car, the tyre is going to overheat and (the failure) is going to happen quicker.
"We needed to do a better job collectively, and I'll put my hand up, to communicate with the drivers.
"Our (failures) were self-inflicted. We could have done a better job. With the high tyre pressures the car felt really bad out there, but the problem is they were still going fairly quick.
"Just before Jamie's tyre blew he was, I think, the fastest car on track. And we didn't have the fastest cars on pure performance, so therefore to go that pace he was pushing.
"We should have worked better than that. If we're going that fast, we're pushing harder than everyone else. I should have done a better job with the engineers to then work with the drivers and say they need to back it off a little more."
As a result, Whincup, who had run as high as third, finished 18th, behind Van Gisbergen in 16th, while Lowndes was classified in 23rd position.