Mostert triumphs in PI Prodrive one-two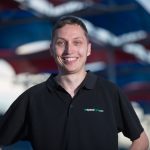 Chaz Mostert claimed his first Supercars championship race win since August 2015 following an impressive drive in Race 6 of the WD-40 Phillip Island 500.
The Supercheap Auto Racing driver ran inside the top five throughout before inheriting the lead after his squad executed a slick two-stop strategy.
Once ahead, the 24-year-old held his nerve to take the chequered flag from Prodrive's Mark Winterbottom, who ran an identical strategy to Mostert.
"It has been long enough. Absolutely amazing, it is a credit to all the guys there behind you at Prodrive," said Mostert.
"After yesterday blowing two right rears they turned this car upside down. The whole win is on those guys.
"It means a lot, Tassie to be leading a couple of races and then to make a mistake and get an error, to win back the following weekend is pretty big."
A first podium of the season proved a much needed kick start for Winterbottom, who had encountered a rough start to the year up until now.
The final place on the podium was claimed by Erebus Motorsport's David Reynolds, who produced a standout drive from 11th on the grid.
Despite Supercars issuing a bulletin to teams detailing an increase to the minimum tyre pressure and recommended camber, tyres remained a talking point.
After declaring Saturday's failures were 'self inflicted', Triple Eight suffered blowouts on all three of its cars.
Jamie Whincup and Shane van Gisbergen picked up right rear punctures on consecutive laps while running strongly inside the top 10. Lowndes appeared on course to claim fourth before he suffered a front right failure.
Nissan Motorsport's Michael Caruso also sustained a right rear puncture on lap 21, while Lucas Dumbrell Motorsport's Taz Douglas lost his right front.
DJR Team Penske's Fabian Coulthard led the way after making an impressive getaway from the front row to lead team-mate and pole-sitter McLaughlin and Jamie Whincup.
The race encountered its first stoppage on the opening lap when Nick Percat made side-to-side contact with Will Davison, which fired the Tekno Autosports driver off the road at Turn 3 and into retirement. Jason Bright was also caught up in the incident.
The Safety Car forced everyone into it pits apart from McLaughlin, who inherited the lead by staying out.
McLaughlin then produced a blistering stint to open up a 10.2s gap over team-mate Coulthard before ducking into the pits for a lengthy stop for fuel.
Coulthard took over the lead which he held until the introduction of a second Safety Car due to debris on circuit after right rear tyre failures for Whincup and van Gisbergen.
The pair had been running inside the top 10 with Whincup holding third for a significant period of the race.
This promoted McLaughlin back to the lead as the majority of the field elected to pit under the caution period.
Prodrive pair Chaz Mostert and Mark Winterbottom pushed themselves into a strong position after making their second stops lying in second and third behind McLaughlin, who required another stop.
However, Coulthard's race began to unravel when he was issued a pit lane penalty for ignoring a red light at pit exit after his stop. As a result, he plummeted to 20th spot.
McLaughlin dived into the pits on lap 41 for his second stop which saw him rejoin in 22nd position after a lengthy stop to remove a flapping rear bumper.
The pit stop elevated Mostert to the lead from Winterbottom, Courtney and Reynolds, who benefitted from long fills on a two-stop strategy.
Lowndes enjoyed a late charge to move into fourth after a move on GRM's James Moffat, but his race was destroyed by a right front puncture, that saw him retire from the heat.
A late pit stop from Courtney saw him surrender third to Reynolds while Moffat came through to finish fourth.
Person Hire Racing's Lee Holdsworth claimed his best result of the season in fifth ahead of Cameron Waters and Garth Tander, who ensured both GRM Holdens finished inside the top seven.
The Top 10 was completed by Dale Wood (Erebus Motorsport), Rick Kelly (Nissan Motorsport) and Michael Caruso.
Simona de Silvestro equalled her career best result in 13th position following a commendable drive on debut at Phillip Island.
Championship leader Coulthard finished in 17th, in-between van Gisbergen and Whincup, while McLaughlin fought back to 14th spot.
Coulthard's championship lead has been reduced to seven points over van Gisbergen.
Result: Virgin Australia Supercars Championship WD-40 Phillip Island 500 Race 6
| | | | | | |
| --- | --- | --- | --- | --- | --- |
| 1 | Supercheap Auto Racing | Chaz Mostert | Ford Falcon FG/X | 57 | 01:38:54.3876 |
| 2 | The Bottle-O Racing Team | Mark Winterbottom | Ford Falcon FG/X | 57 | 01:38:57.2916 |
| 3 | Erebus Penrite Racing | David Reynolds | Holden Commodore VF | 57 | 01:38:57.9352 |
| 4 | Wilson Security Racing GRM | James Moffat | Holden Commodore VF | 57 | 01:39:04.3217 |
| 5 | Preston Hire Racing | Lee Holdsworth | Holden Commodore VF | 57 | 01:39:05.0029 |
| 6 | Monster Energy Racing | Cameron Waters | Ford Falcon FG/X | 57 | 01:39:10.7750 |
| 7 | Wilson Security Racing GRM | Garth Tander | Holden Commodore VF | 57 | 01:39:12.1445 |
| 8 | Erebus GB Galvanizing Racing | Dale Wood | Holden Commodore VF | 57 | 01:39:15.6050 |
| 9 | Sengled Racing | Rick Kelly | Nissan Altima | 57 | 01:39:16.7325 |
| 10 | Nissan Motorsport | Michael Caruso | Nissan Altima | 57 | 01:39:16.9221 |
| 11 | carsales Racing | Todd Kelly | Nissan Altima | 57 | 01:39:18.7875 |
| 12 | Mobil 1 HSV Racing | Scott Pye | Holden Commodore VF | 57 | 01:39:22.1286 |
| 13 | Team Harvey Norman | Simona De Silvestro | Nissan Altima | 57 | 01:39:25.3462 |
| 14 | Shell V-Power Racing Team | Scott McLaughlin | Ford Falcon FG/X | 57 | 01:39:25.7361 |
| 15 | Team CoolDrive | Tim Blanchard | Holden Commodore VF | 57 | 01:39:30.4028 |
| 16 | Red Bull Holden Racing Aust | Shane Van Gisbergen | Holden Commodore VF | 57 | 01:39:34.8414 |
| 17 | Shell V-Power Racing Team | Fabian Coulthard | Ford Falcon FG/X | 57 | 01:39:34.9805 |
| 18 | Red Bull Holden Racing Aust | Jamie Whincup | Holden Commodore VF | 57 | 01:39:35.4591 |
| 19 | Freightliner Racing | Tim Slade | Holden Commodore VF | 57 | 01:39:35.6338 |
| 20 | Mobil 1 HSV Racing | James Courtney | Holden Commodore VF | 57 | 01:39:35.9597 |
| 21 | BIANTE 1:1 | Nick Percat | Holden Commodore VF | 57 | 01:39:58.4428 |
| 22 | Repair Management Aust Racing | Alex Rullo | Holden Commodore VF | 57 | 01:40:12.2605 |
| 23 | TeamVortex | Craig Lowndes | Holden Commodore VF | 56 | 01:39:03.6726 |
| 24 | Repair Management Aust Racing | Taz Douglas | Holden Commodore VF | 55 | 01:38:59.8445 |
| 25 | MEGA Racing | Jason Bright | Ford Falcon FG/X | 50 | 01:40:00.4240 |
| DNF | TEKNO Woodstock Racing | Will Davison | Holden Commodore VF | | |
Championship Standings
| | | |
| --- | --- | --- |
| 1 | Fabian Coulthard | 568 |
| 2 | Shane Van Gisbergen | 561 |
| 3 | Chaz Mostert | 531 |
| 4 | Jamie Whincup | 522 |
| 5 | Scott McLaughlin | 471 |
| 6 | Garth Tander | 444 |
| 7 | Cameron Waters | 427 |
| 8 | Mark Winterbottom | 417 |
| 9 | Craig Lowndes | 378 |
| 10 | James Moffat | 366 |
| 11 | David Reynolds | 360 |
| 12 | Michael Caruso | 357 |
| 13 | Tim Slade | 348 |
| 14 | James Courtney | 336 |
| 15 | Lee Holdsworth | 321 |
| 16 | Todd Kelly | 313 |
| 17 | Rick Kelly | 306 |
| 18 | Scott Pye | 297 |
| 19 | Simona De Silvestro | 273 |
| 20 | Jason Bright | 228 |
| 21 | Nick Percat | 210 |
| 22 | Tim Blanchard | 210 |
| 23 | Dale Wood | 173 |
| 24 | Will Davison | 150 |
| 25 | Taz Douglas | 144 |
| 26 | Alex Rullo | 105 |